Tastes Of Summer
Summer is a beautiful time for entertaining, but in the current recession, we're all trying to save a few pennies any way we can. This doesn't mean we have to sacrifice delicious treats for our guests, though. Behold 10 of our favorite summer side recipes – all for under $10!
(page 2 of 10)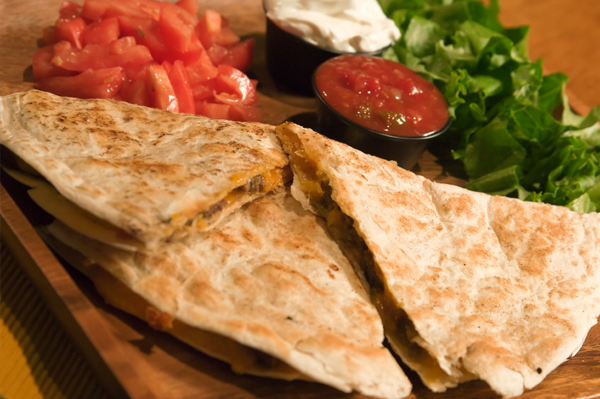 Chicken and Black Bean Quesadillas
Registered dietician, nutritionist and author Elizabeth Somer has created this recipe to help you add a healthy spin and big flavor to your meals without taking a big bite out of your budget.
Ingredients:
8  medium-size Mission soft taco tortillas
2 cups shredded, cooked chicken breast (rotisserie chicken works great)
1 15-ounce can black beans, washed and drained
2  tablespoons of fresh cilantro
1/2 to 1 teaspoon ground chipotle pepper
2  teaspoons honey
1  cup reduced-fat Monterey Jack cheese
2 cups shredded lettuce
1  diced tomato
2 teaspoons fresh cilantro, chopped
1 cup reduced-fat sour cream
1 cup salsa
Preparation:
Mix chicken, black beans, salsa, cilantro, chipotle pepper and honey in large saucepan. Heat over medium heat until hot. Remove from heat.
Heat large skillet over medium heat and coat with vegetable cooking spray. Place one tortilla flat on skillet. After a minute, flip tortilla over.
Place about 1/2 cup chicken mixture on tortilla, carefully spreading to the edges. Sprinkle with 1/4 cup cheese. Place another tortilla on top and press down with a spatula. Cover quesadilla with a lid. After 1 minute, flip quesadilla if brown. Once cheese has melted, remove quesadilla, transfer to cutting board and cut into 8 wedges. Repeat for remaining quesadillas.
Place quesadillas on a serving tray, sprinkle with shredded lettuce, diced tomatoes and chopped cilantro. In center of tray, place a small cup of salsa and reduced-fat sour cream.
Up next: Thai Sweet and Spicy broccoli