Italian Easter
Dinner Recipes
Easter and any holiday for that matter is an excuse to eat a huge feast in most Italian families. Starting with an antipasto platter, soup, pasta, a meat entree, multiple sides, and of course dessert, Easter is a time to indulge after 40 days of Lent. Whether or not you have Italian roots, preparing the following Italian-style Easter meal will make the spring holiday all the more reason to celebrate.
(page 2 of 2)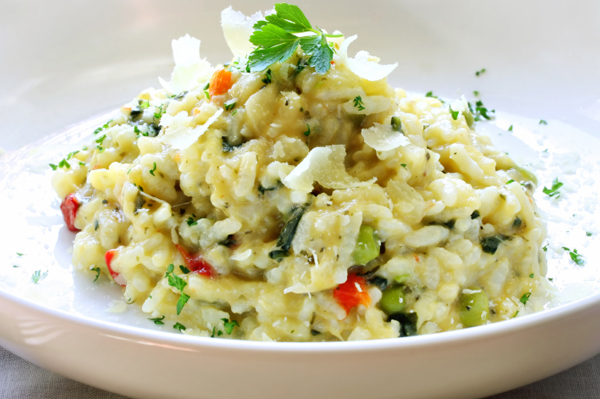 Italian-style Easter Recipes
Spring Vegetable Risotto
Makes 4 servings
Ingredients:
7 cups water
4-1/2 teaspoons salt, divided
1/2 cup unsalted butter, divided
8 ounces leeks, sliced
Freshly ground black pepper
1 shallot, diced
1-1/2 cups Arborio rice
1/2 cup white wine
4 sprigs fresh rosemary
2 teaspoons grated lemon zest
4 ounces fresh asparagus, trimmed and chopped
1/2 cup grated Parmesan cheese
5 ounces (about 1 cup) fresh shelled peas
2 tablespoons freshly squeezed lemon juice
Directions:
1. Heat water with 2 teaspoons of salt in a large pot until gently simmering. Meanwhile, heat 2 tablespoons butter in a skillet and add leeks, sauteing until tender. Season leeks to taste with salt and pepper and set aside.
2. Heat 2 tablespoons butter in a saucepan until lightly browned. Saute the shallots until tender then add the rice and stir 1 to 2 minutes. Season with 2-1/2 teaspoons salt then add white wine and cook until liquid is absorbed.
3. Add rosemary sprigs and ladle hot water into saucepot in 1/2 cup intervals, stirring rice until liquid is absorbed before adding more. About 10 minutes into cooking, stir in the lemon zest then add more water. Stir asparagus into the rice and cook 10 minutes more, adding water and stirring as directed (you may not use all the water).
4. Stir in the last 4 tablespoons of butter and the cheese. Then stir in the peas, leeks and lemon juice, cooking until peas are tender, about 1 to 2 minutes. Remove pan from heat and serve.
Thyme Roasted Lamb
Makes 4 servings
Ingredients:
1/8 cup honey
1 tablespoon Dijon mustard
1 tablespoon chopped fresh thyme
1/2 teaspoon freshly ground black pepper
1/2 teaspoon lemon zest
2 cloves garlic, minced
3 pounds whole leg of lamb
1/2 teaspoon coarse sea salt
Directions:
1. Mix honey with mustard, thyme, black pepper, lemon zest and garlic. Spread mixture all over lamb, cover lamb and let rest in refrigerator for at least 8 hours.
2. When ready to cook, preheat oven to 450 degrees F and arrange lamb in a roasting pan. Season with salt.
3. Roast lamb for 20 minutes then lower heat to 400 degrees F. Roast for 60 minutes or until medium rare. Using a meat thermometer, make sure the temperature is at least 145 degrees F. Let rest before slicing.
Italian Ricotta Pie
Makes 8 to 10 servings
Ingredients:
8 eggs
1-1/2 cups granulated sugar, divided
1-1/2 teaspoons lemon extract, divided
1-1/2 pounds ricotta cheese
1/4 cup miniature semisweet chocolate chips
2 cups all-purpose flour
2-1/2 teaspoons baking powder
1/4 cup shortening
Directions:
1. Beat 6 eggs with 2 cups sugar and lemon extract. Mix ricotta with chocolate chips.
2. Preheat oven to 325 degrees F. Coat a 9-inch pie plate with cooking spray.
3. Mix flour with baking powder and 1/2 cup sugar. Cut in the shortening with forks or two knives until crumbs are made.
4. Mix in 2 eggs and 1/2 teaspoon lemon extract until a dough is made and form dough into two balls. Roll out each ball until flat and place one on the bottom of the prepared pie plate.
5. Spoon the ricotta filling into the pie plate and cover with the other piece of dough. Cut holes into the dough for vents.
6. Bake pie for 50 to 60 minutes or until top is golden, covering the crust with strips of foil if they start to brown too quickly.
More mouthwatering Easter recipes

>> Get our favorite Italian recipes, travel tips, decor, style & more!