Red Carpet
Recipes & More
Enjoy the glitz and glamour of the Academy Awards with your own fun and fabulous Hollywood style party. This year on Sunday, March 7th, all of Hollywood's elite come together for the biggest red carpet party of the year, giving you the opportunity to host your own Oscar party with star-caliber food, A-list cocktails, and Academy Awards themed games.
(page 2 of 2)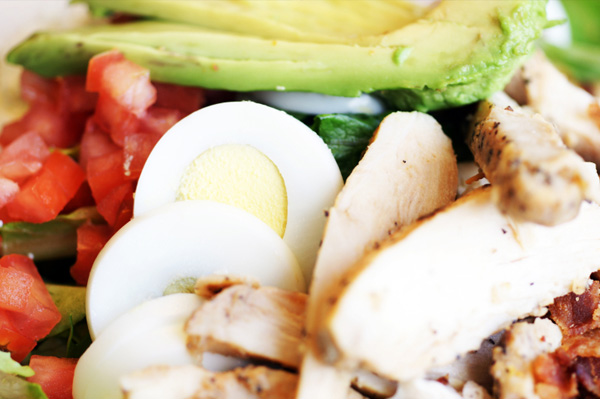 Oscar party recipes
The Original Cobb Salad
Makes 8 servings
Ingredients:
1 teaspoon Dijon mustard
1/2 cup red wine vinegar
2 teaspoons Worcestershire sauce
1 clove garlic, crushed
1/4 teaspoon salt
1/2 teaspoon freshly ground black pepper
1/2 cup olive oil
2 heads romaine lettuce, torn into bite-size pieces
6 hard-boiled eggs, peeled, chopped
10 slices bacon, cooked until crisp and crumbled
8 cups diced cooked chicken
4 avocados, halved, pitted, peeled and diced
4 tomatoes, halved, seeded, chopped
10 ounces Roquefort cheese, crumbled
Directions:
1. In a small bowl, whisk mustard with vinegar, Worcestershire, garlic, salt and pepper. Continue to whisk and slowly drizzle oil into mixture, mixing until emulsified.
2. Arrange lettuce in a large bowl and top with eggs, bacon, chicken, avocados, tomatoes and cheese. Serve dressing on the side or drizzle overtop and gently mix.
Mini Crab Cakes
Makes 24 crab cakes
Ingredients:
1/4 cup dried bread crumbs
1 teaspoon baking powder
1 teaspoon dried parsley
1 teaspoon dried mustard
1/4 teaspoon freshly ground black pepper
2 teaspoons Old Bay seasoning
1 tablespoon mayonnaise
2 tablespoons salted butter, melted
1 teaspoon Worcestershire sauce
2 large eggs, beaten
1-1/2 pounds jumbo lump crab meat
Directions:
1. Preheat oven to 350 degrees F. Coat a large baking sheet with cooking spray.
2. In a medium bowl, mix bread crumbs, baking powder, parsley, dried mustard, pepper and Old Bay.
3. In a separate bowl, combine mayonnaise, butter, Worcestershire and eggs until well mixed. Gently stir in crab meat then bread crumb mixture.
4. Form the crab mixture into 24 (2- to 3-inch) patties and arrange on the prepared baking sheet. Cook for 15 to 20 minutes or until crab cakes are golden brown and crispy on the outside, flipping over after 7 to 8 minutes.
Caviar and Smoked Salmon Blinis
Makes 24 blinis
Ingredients:
1 cup pancake mix
1/2 teaspoon salt
1 egg
1 tablespoon melted unsalted butter
2/3 cup low fat milk
Creme fraiche, to taste
Smoked salmon
8 ounces your choice of caviar
Chives, snipped
Directions:
1. Combine pancake mix with salt, egg, butter, and milk until smooth.
2. Heat a skillet or pancake griddle until hot and brush lightly with butter or spray with cooking spray.
3. Spoon tablespoonfuls of batter onto the hot griddle and cook 1 to 2 minutes or until bubbles begin coming through the top. Flip pancakes and cook an additional 1 to 2 minutes or until golden.
4. Remove blinis and arrange on a platter. Top with creme fraiche, salmon and caviar.
More ways to celebrate all things Oscar