Sweets For Your Sweetie
You've planned the perfect romantic dinner -- and now it's time for a tempting dessert to sweeten the night. Here we offer six sensual dessert recipes you can enjoy with your Valentine any night of the year.
(page 4 of 6)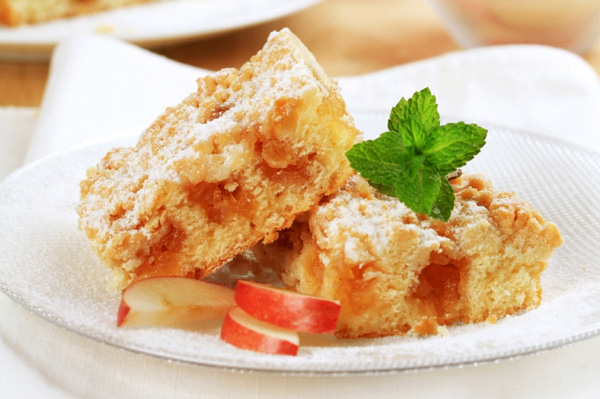 Apple Berry crumble
Ingredients:
1/2 pound cold butter (2 sticks), diced, plus more at room temperature for pan
2/3 cup blanched, sliced almonds
1/3 cup unsweetened flaked coconut
2/3 cup packed brown sugar
3/4 cup rolled oats
1/2 teaspoon salt
3/4 cup all-purpose flour
1/2 cup whole-wheat flour
1-1/2 pounds tart baking apples such as Granny Smith, peeled, cored and cut into medium dice
1-1/2 pounds frozen berry mix
Juice and zest of 1/2 lemon
2/3 cup granulated sugar
2 tablespoons cornstarch
1/8 teaspoon ground cinnamon
1/8 teaspoon ground cardamom
1/8 teaspoon ground ginger
Directions:
1. Preheat oven to 375F, butter a 9- by 13-inch baking dish, and place it on a parchment-lined baking sheet.

2. In a large bowl, or in the bowl of a stand mixer with a paddle attachment, combine almonds, coconut, brown sugar, 1/4 teaspoon salt, oats and flours. Using a pastry cutter, or the mixer on its lowest speed, cut in 1-3/4 sticks (14 tablespoons) butter into the dry ingredients. Set aside.

3. In a large bowl, combine apples, frozen berries, lemon zest, lemon juice, sugar, cornstarch, spices and remaining 1/4 teaspoon salt. Toss gently to combine well. Pour fruit mixture into prepared baking dish and cover with the reserved butter.
4. Sprinkle topping evenly over dish, leaving a bit of the fruit peeking out at edges. Bake for 55 to 60 minutes until the filling is bubbling and the top is golden brown. Allow to stand five to 10 minutes before serving.