High-Fiber
Recipes
Fiber is one of those nutrients that you should eat every day without fail. It is recommended for women to consume a daily 21 to 25 grams of fiber and for men to get between 30 and 38 grams of fiber per day. Fiber not only keeps your digestive tract on track, but research shows it can also have a positive effect on heart health. Best yet, most of the foods you already love have fiber, so simply eating a few more servings a day will deliciously benefit your heart and overall health.
(page 2 of 2)
High-fiber recipes
Raspberry Bran Muffins
Makes 12 servings
Ingredients:
1-1/2 cups wheat bran
1 cup low-fat milk
1/2 cup unsweetened applesauce
1 egg
2/3 cup lightly packed brown sugar
1/2 teaspoon vanilla extract
1/2 cup all-purpose flour
1/2 cup whole wheat flour
1 teaspoon baking soda
1 teaspoon baking powder
1/2 teaspoon salt
1 cup fresh raspberries
Directions:
1. Preheat oven to 375 degrees F. Line a muffin tin with liners.
2. In a small bowl, combine wheat bran and milk and set aside.
3. In a second bowl, mix applesauce with egg, brown sugar and vanilla. Stir bran mixture into egg mixture.
4. Combine flours with baking soda, baking powder, and salt and gradually beat into egg mixture.
5. Gently stir raspberries into mixture and pour into prepared muffin tins.
6. Bake 15 to 20 minutes or until a toothpick comes out clean. Let cool on a wire rack.
Three Bean Salsa
Makes 4 to 6 servings
Ingredients:
1 (15-ounce) can black beans, rinsed and drained
1 (15-ounce) can kidney beans, rinsed and drained
1 (15-ounce) can lima beans, rinsed and drained
1 (8-ounce) package frozen whole kernel corn, thawed
2 tomatoes, seeded and diced
1 avocado, halved, pitted, peeled and diced
1 small shallot, diced
1/8 to 1/4 cup chopped fresh basil leaves
2 tablespoons lemon juice
1 tablespoon balsamic vinegar
Salt and freshly ground black pepper to taste
Directions:
1. In a large bowl, combine beans, corn, tomatoes, avocado, shallot and basil.
2. In a small bowl, whisk lemon juice with vinegar and season to taste with salt and pepper. Drizzle dressing over beans when ready to serve.
Asian-Style Noodles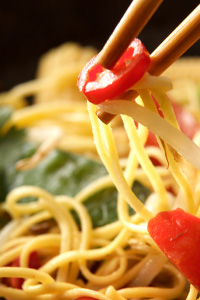 Makes 4 servings
Ingredients:
8 ounces whole wheat spaghetti
1 tablespoon grated fresh ginger
2 garlic cloves, finely chopped
1 tablespoon canola oil
1 tablespoon sesame oil
2 tablespoons reduced-sodium soy sauce
1 cup small cauliflower florets
1 cup fresh bean sprouts
1 cup cherry tomatoes, halved
1 cup chopped fresh kale
2 scallions, chopped
1/4 cup water chestnuts, drained
Directions:
1. Cook pasta according to package directions or until tender. When cooked, drain and set aside.
2. Meanwhile, in a wok or hot skillet, saute ginger and garlic in canola and sesame oils until just golden.
3. Add soy sauce and cauliflower and cook 5 to 6 minutes. Stir in sprouts, tomatoes, kale, scallions and water chestnuts, and cook until vegetables are tender.
4. Add pasta to vegetable mixture and stir until combined and heated through.
More on the health benefits of fiber