Zesty Recipes
The best time to enjoy grapefruits is the winter season, so it makes sense that February is National Grapefruit Month. Not just a healthy breakfast food anymore, grapefruits are very versatile and can be used in everything from zesty entrees to refreshing desserts. Here are a few grapefruit recipes and the health benefits of this tangy-sweet citrus fruit.
(page 2 of 2)
National Grapefruit Month Recipes
Fennel & Grapefruit Salad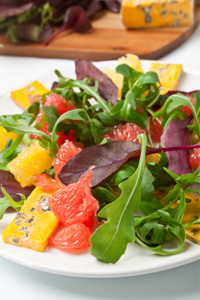 Makes 6 servings
Ingredients:
3 bunches baby spinach
2 large fennel bulbs, sliced very thinly
2 ruby red grapefruit, peeled and segmented
1/2 cup Kalamata olives, pitted
1/4 cup crumbled blue cheese
1/4 cup extra virgin olive oil
1/4 cup balsamic vinegar
Cracked black pepper to taste
Ground sea salt to taste
Directions:
1. Place spinach, fennel, grapefruit segments, olives and blue cheese in a large bowl.
2. Whisk olive oil together with vinegar and season to taste with salt and pepper.
3. Drizzle dressing over salad and gently toss.
Baked Tilapia with Grapefruit
Makes 2 servings
Ingredients:
4 tablespoons butter, melted
2 tilapia fillets
1/4 teaspoon sea salt
Freshly ground black pepper to taste
1/2 cup bread crumbs
2 tablespoons sesame seeds
1/4 teaspoons minced sage
6 fresh grapefruit segments
Directions:
1. Preheat oven to 350 degrees F.
2. Place 1 tablespoon butter in an ovenproof baking dish. Place tilapia in skillet and season with salt and pepper.
3. Combine bread crumbs with 1 tablespoon butter, sesame seeds and sage. Sprinkle mixture over tilapia and bake for 6 to 8 minutes or until just about cooked through.
4. Arrange grapefruit segments on fish and brush with butter. Bake for another 2 to 3 minutes or until fully cooked.
Baked Grapefruit
Makes 4 servings
Ingredients:
4 grapefruits
2 tablespoons butter, melted
1/4 cup brown sugar
1 tablespoon ground cinnamon
8 maraschino cherries
Directions:
1. Preheat oven to 350 degrees F.
2. Slice grapefruits in half and arrange in a baking dish. Drizzle butter over grapefruit halves and sprinkle with brown sugar and cinnamon.
3. Bake for 5 to 7 minutes or until golden on top. Garnish each with a cherry.
More zesty sweet grapefruit treats