Host An Olympic
Celebration
The opening ceremony for the 2010 Vancouver Winter Olympics kicks off on February 12th.Since this high-energy, cold weather event only comes around every four years, an Olympic party is the perfect way to celebrate. Here's how to host a festive Winter Olympics get-together to watch the top notch athletes and enjoy lots of cold weather treats and Olympic-themed fun.
(page 2 of 2)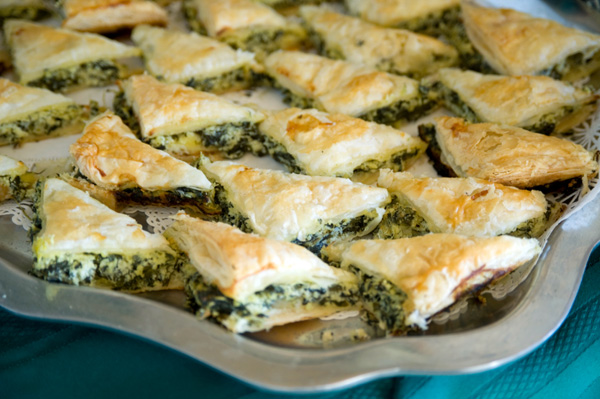 Winter Olympics party recipes
Spanakopita
Makes 12 to 15 servings
Ingredients:
2 pounds frozen spinach, thawed and drained well
3 tablespoons extra virgin olive oil, divided
1 bunch green onions, chopped
2 tablespoons minced parsley
Salt and freshly ground black pepper
2 cups feta cheese, crumbled
2 eggs, lightly beaten
1 cup (2 sticks) unsalted butter, melted
1 pound frozen phyllo dough
Directions:
1. Saute the spinach in 2 tablespoons olive oil until heated through. Drain well and chop.
2. Saute green onions in 1 tablespoon olive oil until tender. Add spinach back to pan with onions and mix in parsley. Season with salt and pepper. Cook until heated through, then let mixture cool. Stir in feta and eggs.
3. Preheat oven to 350 degrees F. and brush two baking sheets with some of the butter.
4. Unroll phyllo dough, working with one sheet at a time, keeping the remaining dough in between damp towels to keep it from drying out.
5. Slice dough into even strips and brush each with butter. Spoon a small amount of the spinach mixture onto one end of each strip and roll up to form triangles.
6. Place triangles on prepared baking sheets and continue with reaming phyllo and spinach mixture. Brush the tops with more butter.
7. Bake 20 to 25 minutes or until golden and crisp.
Homemade Hummus
Makes 10 to 12 servings
Ingredients:
2 garlic cloves, chopped
1 (19-ounce) can chickpeas, with half of the liquid
3 tablespoons lemon juice
2 tablespoons tahini
Salt and pepper to taste
2 to 3 tablespoons extra virgin olive oil
Directions:
1. Combine garlic and chickpeas (with half of the liquid) in a blender or food processer, and pulse to chop.
2. Add lemon juice and tahini and season to taste with salt and pepper. Blend until smooth.
3. To serve, spoon hummus into a bowl and drizzle with olive oil.
Steamed Pork Dumplings
Makes 6 to 8 servings
Ingredients:
5 cabbage leaves
3/4 pound lean ground pork
2 tablespoons minced scallions
1 clove garlic, minced
1 teaspoon minced ginger
1 cup mushrooms, minced
3 tablespoons minced water chestnuts
1 egg, lightly beaten
1 tablespoon rice wine
1-1/2 tablespoons soy sauce
2 tablespoons cornstarch
40 round won ton skins
Directions:
1. Arrange cabbage leaves on a bamboo or metal steamer and set over boiling water. Cover with lid and steam a few minutes or until leaves are limp.
2. Remove cabbage from steamer and let dry for a few minutes then chop.
3. Next, combine pork with scallions, garlic, ginger, mushrooms, water chestnuts, egg, rice wine, soy sauce, cornstarch and cabbage.
4. Fill each wonton skin with about 1 tablespoon of filling. Form each dumpling in the palm of your hand and bring sides up to pleat at top to seal. The dumpling should not be sealed too tightly.
5. Place dumplings on steamer rack set inside a wok or pot with boiling water. Place lid on steamer or pot and steam 15 to 20 minutes or until tender and cooked through.
More Olympic inspiration