Dip Down!
Even if you are not a sports fan, you know that sometimes the big game is more than just a game. It's a holiday in the same way as New Year's Eve or Thanksgiving or perhaps even Christmas, and needs to be planned for accordingly. And the key to any good party is the food. In a setting like this -- with many people migrating in and out and the action the television -- it's all about the dips. Of course, not all dips are created equal; here are some of our favorites.
(page 4 of 5)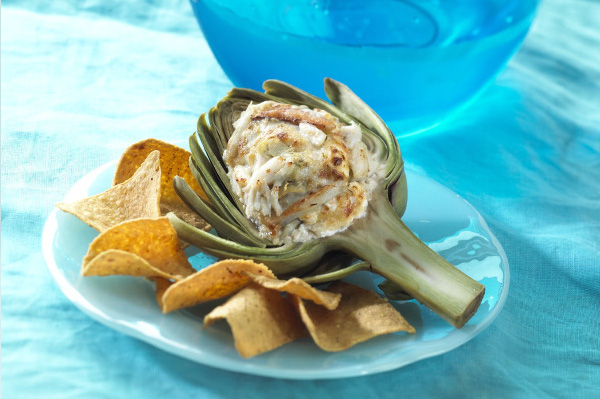 Crab and five-cheese artichoke dip
At your party, you are a hostess -- so, don't be crabby. However, do serve crab. This dip is one I've recently tried, sent to me by Alexa Hart Bosshardt, MPS, RD, LD/N, the culinary nutritionist at Phillips Crab Meat. It's savory, cheesy, and has just enough kick!
Ingredients:
8 oz. Phillips Crab Meat
4 each large artichokes 
4 ounces cream cheese (preferably Philadelphia) 
1/4 cup finely shredded Monterey Jack cheese
2 tablespoons finely shredded Romano cheese
2 tablespoons finely shredded Parmesan cheese 
1/4 cup shredded Mozzarella cheese, low-moisture, part skim
1/4 cup Hellmann's Mayonnaise
2 tablespoons white wine    
1/4 teaspoon Phillips Seafood Seasoning
Optional: pinch each white, red, black pepper
Directions
Bring 1/2 pot of water to boil in 4 quart stockpot. Trim tops and bottom stems of artichokes and boil artichokes 35-45 minutes, depending on size, until tender. Test doneness by gently pulling off an outside leaf. Cool, cut in half and gently remove "choke" out of center.
In a 1 quart mixing bowl, mix all cheeses, mayonnaise, white wine and seasonings together.
Preheat oven to 400 degrees F. Place artichoke halves, cut side up, in buttered 9 x 13 inch baking dish. Fill centers of each artichoke with crab and cheese mixture.
Bake in preheated oven approx. 15 minutes or until filling is bubbling hot.
Serves 8 as an appetizer portion or 4 as an entrée.
Serving Suggestion: Serve with tomato salsa of desired spiciness or dip whole grain tortilla chips in crab and cheese mixture.
Next up: Let's get fruity!