Dip Down!
Even if you are not a sports fan, you know that sometimes the big game is more than just a game. It's a holiday in the same way as New Year's Eve or Thanksgiving or perhaps even Christmas, and needs to be planned for accordingly. And the key to any good party is the food. In a setting like this -- with many people migrating in and out and the action the television -- it's all about the dips. Of course, not all dips are created equal; here are some of our favorites.
(page 2 of 5)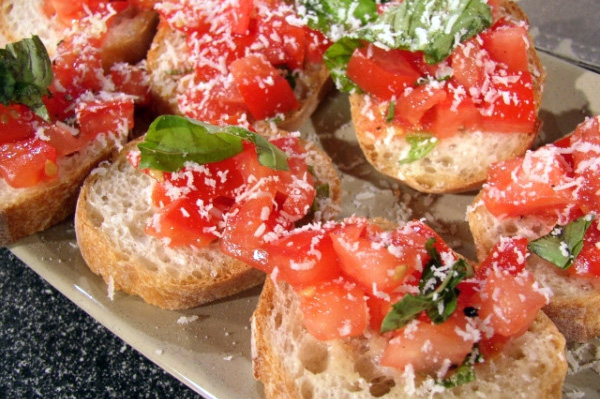 Bruschetta
Italian bruschetta (pronounced "brusketta") is a wonderful way to capture the flavors of ripe summer tomatoes, fresh garden basil, and garlic. We love the ease and deliciousness of this recipe when throwing in Le Grand's 4-Nuts and Cheese Pesto. It tastes like we are in our favorite Italian restaurant, but we're actually sprawled out in our living room.
Ingredients
1/2 baguette, sliced
1/4 cup extra virgin olive oil
3 to 4 whole garlic cloves, peeled
4 large tomatoes, diced
2 tablespoons Le Grand 4-Nuts & Cheese Pesto
Directions
Brush the olive oil onto one side of the slices of bread. Bake in a 400 degrees F oven until toasted. Remove from oven and rub with the whole garlic gloves. Blend the tomatoes and the Le Grand Pesto and dress each slice of bread with a generous portion of bruschetta.
Yield: approx 16 hors d'oeuvres.
Next up: Bean and corn dip