Healthy Food
Substitutions
Healthy cooking doesn't mean forsaking flavor or saying good-bye to satisfying meals. Sensible substitutions for high calorie ingredients in your favorite family recipes can seamlessly shave fat and calories without sacrificing tastes or textures. Not only will you be improving your family's diet, you'll be reducing your family's risk of obesity and chronic illnesses, including diabetes, heart disease and even cancer. Here are some savvy substitutions from the The Mayo Clinic Diet: Eat Well. Enjoy Life. Lose Weight., the newest release from Dr Donald Hensrud and the weight-loss experts at Mayo Clinic.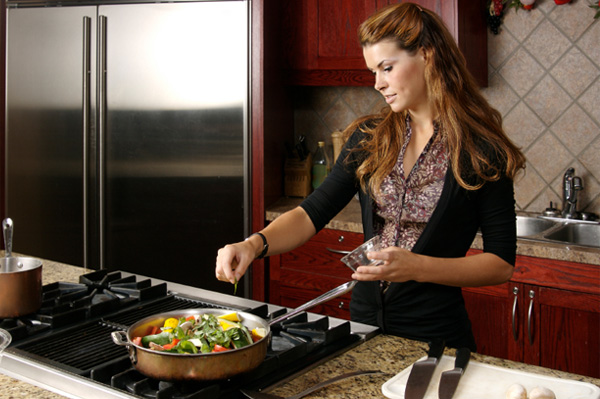 Instead of butter…
Many recipes call for butter, margarine, shortening, oil or mayonnaise. To help you reduce your family's intake of fat and calories, try these healthy substitutions:
For sandwiches, substitute tomato slices, catsup or mustard.
For stove-top cooking, sauté food in broth or small amounts of healthy oil like olive, canola or peanut, or use nonstick spray.
In marinades, substitute diluted fruit juice, wine or balsamic vinegar.
In cakes or bars, replace half the fat or oil with the same amount of applesauce, prune puree, yougurt or commercial fat substitute.
To avoid dense, soggy or flat baked goods, don't substitute oil for butter or shortening, and avoid substituting diet, whipped or tub-style margarine for regular margarine.
Instead of high fat cuts of meat…
Diets low in red meat and saturated fat have been linked to longevity and heart health. You don't necessarily have to forgo a good steak or burger; simply choose leaner meats and limit your portion sizes. Dr Hensrud recommends replacing most of the meat in chili or stir-fries with beans or vegetables, and if eating meat as an entrée, keep your portion to no more than the size of a deck of cards, or three to four ounces. If you're worried you'll still be hungry, load up on vegetables.
Instead of whole milk…
Consider this: one cup of whole milk has 160 calories and eight grams of fat while one cup of skim milk has about 100 calories and less than one gram of fat. When recipes call for milk, substitute an equal amount of skim milk, 1% milk or evaporated skim milk. For example, use low-fat milk in pancake, waffle and French toast recipes, and swap out whole milk for evaporated skim milk in mashed potatoes. Evaporated milk is also a great substitute for half and half or cream.
Instead of whole eggs…
For most recipes, including omelets or scrambles and baked goods, you can seamlessly substitute one-fourth cup of egg substitutute or two egg whites for every whole egg.
Instead of sour cream or cream cheese…
Dr Hensrud recommends swapping out regular sour cream and cream cheese with fat-free, low-fat or light varieties when making dips, spreads, salad dressing and toppings.
Instead of sugar…
For most baked goods recipes, you can reduce the amount of sugar by one-half without affecting texture or taste. However, to maintain moistness, use no less than one-fourth cup of sugar for every one cup of flour. To bring out the sweetness in baked goods, use a bit more vanilla, cinnamon or nutmeg.
Instead of white flour…
When a recipe calls for all purpose flour, replace half or more of the amount with whole wheat pastry flour or a whole grain flour.
Instead of salt…
Fresh or dried herbs and spices can add flavor without adding extra sodium to your family's meals. Dr Hensrud suggests adding them towards the end of cooking, starting sparingly and then adding more if needed. For cookies and bars, reduce the amount of salt by half. Omit salt when boiling pasta, rice or potatoes.
What healthy ingredient substitutions do you use in your kitchen? Let us know in the Comments section below.
More healthy cooking tips
For more information on The Mayo Clinic Diet, visit www.MayoClinic.com.
More From SheKnows Explorer