Morning After
Brunch Recipes
You may not feel like getting up early the morning after New Year's Eve to whip up breakfast, but if you prepare make-ahead brunch dishes, all you'll have to do is heat dishes up. Invite your friends over for a New Year's Day brunch bash and enjoy good food and good company -- both helpful remedies for the morning after hangover.
(page 2 of 2)
New Year's Brunch Recipes
Bacon and Egg Casserole
Makes 8 to 12 servings
Ingredients:
1 large French bread loaf, cubed
8 large eggs
2-1/2 cups half and half
1/2 teaspoon salt
1/2 teaspoon black pepper
1 teaspoon dried mustard
1 teaspoon dried thyme
1/2 teaspoon hot sauce
2 cups grated cheddar cheese
1/2 pound bacon, cooked and crumbled
Directions:
1. Preheat oven to 350 degrees F and butter a 13x9-inch baking dish.
2. Arrange bread cubes in the prepared baking dish.
3. Whisk eggs with half and half, salt, pepper, mustard, thyme and hot sauce. Pour mixture over bread and top with cheese and bacon.
4. Bake for 35 to 40 minutes or until eggs are set and cheese is melted.
Make-ahead tip: This can be prepared up to 2 days in advance up to Step 3. Keep chilled and bake when ready to serve.
Slow Cooker Roast Pork
Makes 10 to 12 servings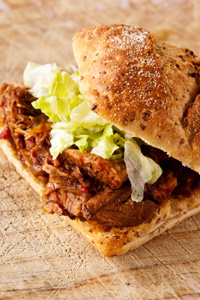 Ingredients:
1 (4-pound) pork butt
1/4 cup Worcestershire sauce
3/4 cup light brown sugar
1 cup apple juice
1/2 teaspoon salt
Directions:
1. Combine all ingredients in a slow cooker. Cover with lid and cook on high for 4 hours or low for 8 hours.
2. When pork is finished cooking, shred meat and serve directly from slow cooker for guests to make sandwiches or platters.
Cinnamon and Brown Sugar Mini Muffins
Makes 24 mini muffins
Ingredients:
1/2 cup unsalted butter
1-1/2 cups brown sugar
2 eggs
1-1/2 cups all-purpose flour
2 teaspoons baking powder
Pinch of salt
2 tablespoons ground cinnamon
1/8 teaspoon ground nutmeg
1/2 cup milk
Directions:
1. Preheat oven to 350 degrees F.
2. In a large bowl, beat butter and 1 cup sugar until creamy. Beat eggs in one at a time until well combined.
3. In a second bowl, combine flour with baking powder, salt, 1 tablespoon cinnamon and nutmeg. Gradually, beat flour mixture into butter mixture, then stir in milk.
4. Spoon mixture into mini muffin cups. Combine remaining brown sugar and cinnamon together and sprinkle over tops of muffins.
5. Bake 15 to 20 minutes or until a toothpick inserted in the center comes out clean. Let cool a few minutes before removing from muffin tins.
More brunch recipes for New Year's Day