Tasty All Year-Round
Citrus recipes are usually thought of as summer treats, but did you know that grapefruit are actually in their peak season during the winter months? You can still get all the benefits of fresh citrus - free-radical fighting nutrients, vitamin C, vitamin A - without waiting for summer. Are you resolving to get healthy in the new year? Fortunately, you've got the option of grabbing fresh grapefruit at your local grocer and getting on the right track. Here are a few recipes that incorporate grapefruit so you can up your intake each day.
(page 7 of 7)
Typical nutrition values for 1 cup of pink/red grapefruit juice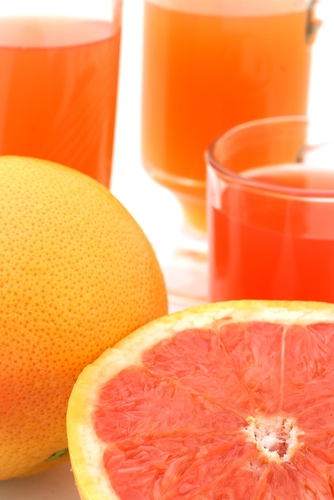 Calories: 94
Total carbs: 22 g
Total sugars: 22 g
Protein: 1 g
Total fat: 0.25 g
Cholesterol: 0 mg
Vitamins:
C: 72 mg (120% Daily Value)
A: 1087 IU (22% Daily Value)
Thiamin: 0.10 mg (7% Daily Value)
Folate: 25 mcg DFE (6% Daily Value)
Niacin: 0.57 mg (3% Daily Value)
Vitamin B6: 0.05 mg (2% Daily Value)
Minerals:
Potassium: 378 mg (11% Daily Value)
Magnesium: 25 mg (6% Daily Value)
Iron: 0.49 mg (3% Daily Value)
Calcium: 17 mg (2% Daily Value)
Sodium: 2 mg (0% Daily Value)
Typical nutritional values shown may vary based on the variety of citrus fruit used for the juice, brand of juice, and form of the juice (i.e., not-from-concentrate versus from concentrate). Refer to the USDA National Nutrient Database or check with your citrus juice vendor for additional information.