Tasty All Year-Round
Citrus recipes are usually thought of as summer treats, but did you know that grapefruit are actually in their peak season during the winter months? You can still get all the benefits of fresh citrus - free-radical fighting nutrients, vitamin C, vitamin A - without waiting for summer. Are you resolving to get healthy in the new year? Fortunately, you've got the option of grabbing fresh grapefruit at your local grocer and getting on the right track. Here are a few recipes that incorporate grapefruit so you can up your intake each day.
(page 6 of 7)
Shrimp with grapefruit juice, carrot chutney, rucola and hot sabayon
Serves 4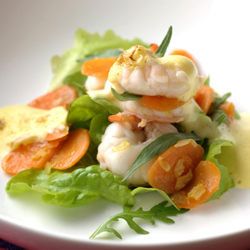 Ingredients:
Carrot chutney:
8 bunches of carrots, peeled and cut slantwise in slices of 3 mm thick, blanched al dente
2 shallots, finely cut
Juice of 2 Florida oranges
1 tbsp. sherry vinegar
1 tbsp. ginger syrup
For the steamed shrimp:
3-4 big shrimp (Black Tigers) per person, peeled and cut in half, length wise
1 cup white Florida 100% grapefruit juice
2 fresh bay leaves, torn in two
1 clove of garlic, in slices
Sabayon:
6 egg yolks
Shredded peel and juice of a red Florida grapefruit
1/4 cup white port
1 little bundle of rucola, washed
Directions:
Carrot chutney:
Fry the shallots in vegetable oil until they are glace. Add the orange juice, sherry vinegar and ginger syrup; let it concentrate to a syrup. Add the carrots and let it softly heat for 3 to 4 minutes.
Shrimp:
Boil the juice of white grapefruit with bay leaves and garlic in a steamer. Keep the juice just under boiling level. Put the shrimp in the steamer and hang it above the grapefruit juice. Put on the lid. Let the shrimp steam for 4-5 minutes until they are almost done, then turn off the heat.
Sabayon:
Meanwhile, beat up the sabayon. Set out a pan with a fitting bowl (au bain Marie), fill the bowl with one third of water and bring to a boil. Turn down the heat. Beat the egg yolks with port, juice and shredded peel of red grapefruit in a bowl. Put the bowl on the pan with almost boiling water and keep stirring (5 -7 minutes) until a light and firm foamy sauce appears. Flavor with salt and pepper to taste. Remember to keep stirring, because otherwise, you will end up with scrambled eggs!
Finishing off: Mix the ruccola with carrots. Now, fill up cocktail glasses with shrimp, divide rucola and carrot into the glasses, and cover with sabayon.
up next: nutrition values for 1 cup of pink/red grapefruit juice