Tasty All Year-Round
Citrus recipes are usually thought of as summer treats, but did you know that grapefruit are actually in their peak season during the winter months? You can still get all the benefits of fresh citrus - free-radical fighting nutrients, vitamin C, vitamin A - without waiting for summer. Are you resolving to get healthy in the new year? Fortunately, you've got the option of grabbing fresh grapefruit at your local grocer and getting on the right track. Here are a few recipes that incorporate grapefruit so you can up your intake each day.
(page 2 of 7)
Grapefruit and buffalo ricotta salad
Serves 6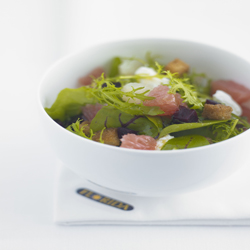 Ingredients:
1 pink Florida grapefruit, segmented
1 cup cooked beetroot, cubed
Little more than 1/2 cup ricotta cheese
3/4 cup washed and picked baby salad leaves, such as ruby chard, spinach, rocket or mizuna
4 slices white bread, cut into 2cm cubes
1 bunch fresh mint
2 tbsp. light olive oil
For the dressing:
Juice of 1/2 Florida grapefruit
Juice of 1 orange
Little more than 1/3 cup lemon oil (This can be bought in most supermarkets, or you can make your own by warming olive oil gently with thinly pared lemon zest and leaving to infuse for a day or so)
Salt and freshly milled black pepper
Directions:
Pick the mint leaves from their stalks and crush the stalks lightly. Shred the leaves. Warm the olive oil in a pan and add the mint stalks. Leave on one side to infuse (the longer you leave this the better). Heat the mint-infused oil in a pan and fry the bread cubes until pale golden. Add the chopped mint leaves and drain on kitchen paper.
When you're ready to eat, mix the salad leaves, grapefruit and beetroot in a salad bowl. Shake the dressing ingredients together and pour it over the leaves. Crumble the ricotta cheese over the salad and scatter over the croutons.
Up next: Grapefruit salsa