Recipes, Themes & Ideas
Cocktail parties-¦we all know we love to attend them. But throwing them? That's another story. Inviting a few friends over for champagne and finger foods during the holiday season sounds like a great idea - initially - and then the headaches set in.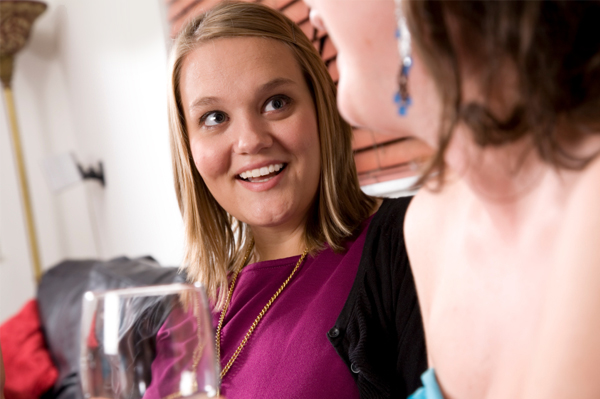 Ideal Number of Guests
"You can keep it small and intimate with a dinner party for 12-15 people max but if you're looking to entertain the true New York way, skip the sit-down dinner and stick with pass hor d'eouvres which will allow you to open your guest list to 35-50 people. One thing to always remember when planning a cocktail party in Manhattan is space accommodation, the smaller your space the more intimate the event," says fashion designer Catherine Malandrino
Options
These are great for gift-wrapping parties, or parties with children and adults, as hot chocolate can be made both with and without alcohol. Especially perfect for places where the temperatures are dropping, and considering its cold enough for me to crave hot chocolate in California, I imagine people everywhere are wanting a little hot chocolate to warm them up.
Have fun with the cocktails
This holiday season, many people are staying in and saving money, but they're getting creative behind the bar. Hosts and hostesses are impressing their guests by stirring it up at home with quick and easy cocktail recipes, all of which can be made in three minutes or less.
Following the lead of bartenders and mixologists around the nation, people are putting creative twists on classic cocktails, and using specialty ingredients like egg whites, habanero peppers, infused vodkas and maple syrup. These innovative cocktails are fun and memorable, showcasing the imaginative minds of the frugal host. (And yes, we're including some fun recipes for you to sample as well!)
MexiCabo Hot Chocolate
Ingredients

11⁄2 oz. Cabo Wabo Blanco Tequila
4 oz. Hot Chocolate
1⁄2 oz. Coffee Liqueur
Whipped Cream
Directions
Pour all ingredients into a coffee cup. Stir well. Finish with dollop of whipped cream.
Put a little punch in it
Punches are great for any cocktail party themes that you've already come up with, all four are really different, and they're especially good because a lot of people are choosing home entertaining as opposed to going out in order to save money this year.

Nicaraguan Negroni Punch
Created by mixologist Jon Gasparini of Rye on the Road
Ingredients

15 ounces Campari
10 ounces Flor de Cana 7 year
7.5 ounces Cinzano Rosso
10 ounces Grapefruit Juice
2.5 ounces Honey

Directions
Combine juice of 10 lemons and 30 cloves in a Tupperware container or cake mold and freeze. Combine all ingredients in a large punch bowl with flavored iced block.
Embrace the Fun, Not the Season
Think beyond the calendar season! A great winter cocktail party theme is "Christmas in the Caribbean," says nationally recognized food blogger Alejandra Ramos of alwaysorderdessert.com. Set the mood with a Latin play list rich with Latin pop favorites, sexy salsa numbers, and a few classic ballads. Cocktails are easy: mojitos with fresh mint (get a bottle of coconut Bacardi for a coconut mojito option), rum punch, pina coladas, and look up a recipe for "Coquito," which is the Puerto Rican version of Egg Nog made with coconut cream, cinnamon, and a lot of rum!
Want to go for an organic theme? Have an "au naturale" party - all organic wines and all organic treats,  plants and lots of greenery decorating the home. This is also a fun idea to save for Earth Day!