12 Cocktails For
A Merry Christmas
Ah, the 12 Days of Christmas, with its drummers drumming, lords a leaping, geese a laying, and a partridge in a pear tree. Though a favorite holiday song, these days, most people don't have a need or room for all the birds, lords, ladies, maids and pipers. A better way to ring in holiday cheer? Sipping one or all 12 (one each day, of course) of these luscious Christmas cocktails.
(page 7 of 12)
On the seventh day of Christmas…
Berry Merry Xmas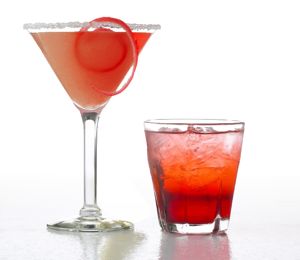 Serves 1
A little fruity, a little fizzy, you'll like the change from the traditional heavy drinks of the holiday season.
Ingredients:
1-1/2 ounces Van Gogh Pomegranate Vodka
1/2 ounce Triple Sec
1/2 ounce peach schnapps
1 ounce cranberry juice
1 ounces club soda
Directions:
Combine all ingredients in a shaker with ice and shake well.
Pour into a martini glass or on the rocks.