12 Cocktails For
A Merry Christmas
Ah, the 12 Days of Christmas, with its drummers drumming, lords a leaping, geese a laying, and a partridge in a pear tree. Though a favorite holiday song, these days, most people don't have a need or room for all the birds, lords, ladies, maids and pipers. A better way to ring in holiday cheer? Sipping one or all 12 (one each day, of course) of these luscious Christmas cocktails.
(page 3 of 12)
On the third day of Christmas…
Eggnog Martini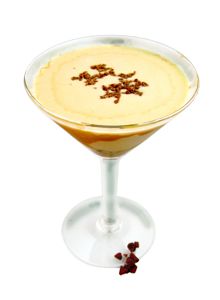 Serves 1
An elegant presentation of the season's quintessential quaff, this Eggnog Martini is much kinder to your waistline.
Ingredients:
2-1/2 ounces eggnog
1 ounce Van Gogh Vanilla Vodka
3/4 ounce Amaretto
Freshly grated nutmeg or ground cinnamon for dusting
Directions:
Combine eggnog, vodka and Amaretto in a shaker with ice and shake vigorously.
Strain into chilled martini glass. Dust with freshly grated nutmeg or cinnamon.