Comfort Casseroles
Winter is the perfect time to enjoy warm and bubbly casseroles hot from the oven. Casseroles can include just about any ingredients from vegetables to pasta to protein and are simple to make. Enjoy comfort food at its best for any meal.
(page 2 of 3)
Spinach & egg breakfast casserole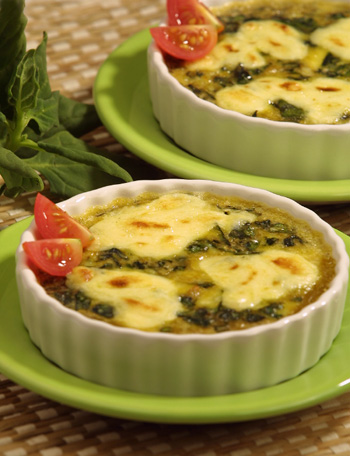 Makes 8 servings
Ingredients
3 1/2 pounds frozen spinach, drained
1/4 cup olive oil
2 garlic cloves, minced
1 tablespoon minced dill
Salt and pepper to taste
8 eggs
1/2 pound Swiss cheese
2 cups plain Greek yogurt
Directions
Preheat oven to 350 degrees F; grease a 12x9 inch casserole dish with cooking spray.
Combine spinach with oil, garlic, and dill; season to taste with salt and pepper.
Spoon the spinach into the casserole and spread to cover the bottom. Make 8 indentations in the spinach and crack the eggs into each indentation. Sprinkle cheese around eggs and bake casserole 20 to 40 minutes depending on how well cooked you like your eggs. Serve with yogurt spooned over.
Cheesy crescent roll casserole
Makes 4 to 6 servings
Ingredients
1 1/2 pounds lean ground beef
1 red onion, diced
1-16 ounce can crushed tomatoes
Salt and pepper to taste
2 cups shredded cheddar cheese
2 cups shredded Monterey jack cheese
6 unbaked refrigerated crescent dinner rolls
1/4 cup sour cream
Directions
Preheat oven to 375 degrees F.
Saute the beef in a large flame proof casserole dish with the onion until beef is browned. Mix in the tomatoes and season to taste with salt and pepper. Cook beef stirring often for about 20 minutes or until the liquid evaporates.
Combine the cheeses and sprinkle over casserole. Flatten the dinner rolls and spread the sour cream on one side. Arrange rolls, sour cream side up, on top of the cheese. Bake casserole 30 to 35 minutes or until bubbly.
Chicken & cranberry casserole
Makes 4 servings
Ingredients
3 pounds boneless skinless chicken breast, chopped
1 white onion, diced
12 ounces fresh cranberries
3/4 cup water
1/4 cup tomato paste
2 tablespoons red wine vinegar
2 teaspoons garlic powder
1/2 teaspoon granulated sugar
salt and pepper to taste
Directions
Preheat oven to 350 degrees F.
Place the chicken pieces in a 12x9-inch casserole dish and top with onions and cranberries.
Combine water with tomato paste, vinegar, garlic powder, sugar, salt, and pepper and pour over chicken. Bake casserole 1 hour or until chicken is cooked and casserole is bubbly.
Up next: More casserole recipes >>