Add A Little Eggnog
Eggnog is usually pulled out around Thanksgiving and enjoyed through the Christmas holidays, only to be shunned again until the next winter. We thought this supporting player deserved a starring role at our holiday tables this year. Here are a few breakfast and dessert ideas that use eggnog to add a flavorful twist on traditional recipes.
(page 2 of 2)
Delightful Desserts
Eggnog is more than just an after-dinner drink or supporting player on the dessert table, it's an excellent source of flavor for more traditional desserts like cake, fudge and cheesecake.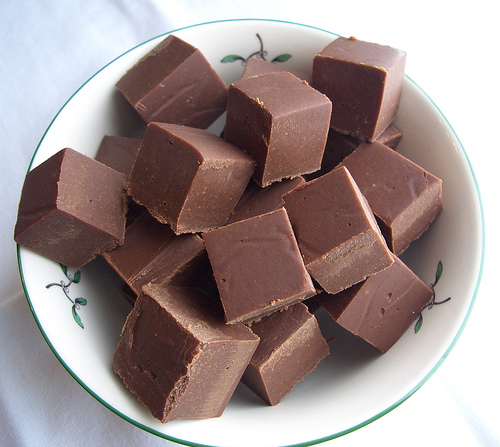 Eggnog fudge
Kick up your holiday fudge recipe with a twist of eggnog. Yum!
Ingredients:
1 cooking spray
1 cup Shamrock Farms Eggnog
3 cup white sugar
1 1/2 cup miniature marshmallows
1/2 tsp ground nutmeg
1/8 cup butter, chilled
1 12 oz. package white chocolate chips
1 cup chopped almonds
Directions:
Line a 9x13 inch baking pan with aluminum foil and set aside.
Spray the bottom and sides with cooking spray while heating Shamrock Farms Eggnog and sugar over medium heat.
Bring to a rolling boil, stirring consistently with a wooden spoon. Boil for 2 minutes.
Fold in marshmallows, cinnamon and nutmeg. Return to a boil for 6 minutes, stirring constantly.
As the mixture boils, it will become brown.
Remove from heat and quickly stir in butter, white chocolate chips and almonds.
Stir well until mixed and glossy.
Quickly pour into prepared pan. Cool at room temperature before removing from pan.
More eggnog dessert recipes on SheKnows
Eggnog cake
Eggnog latte
Exquisite eggnog cake
Looking for more Christmas and holiday recipes? Try these tasty treats:
Roxie's Quick and Easy French Onion Dip
Shamrock Farm's Rockin' Cherry Muffins
Roxie's Apple Cream Pie
Roxie's Easy Lasagna
Eggnog French toast
Eggnog pancakes