Get In The Theme Of Things
If you're hosting another holiday party this year, why not make it a celebration to remember by adding a theme? Go beyond the typical red and green decorations and same old gift exchange with some fun twists on tradition.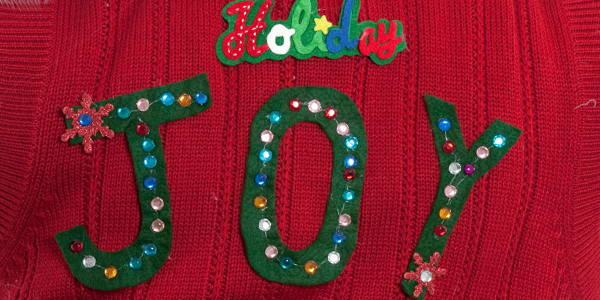 Here are five theme ideas to liven up your next holiday party. 
White elephant party
Not only will this theme guarantee giggle-worthy entertainment, but it will also provide you with a guilt-free way to get rid of that electric pepper mill, the piano key tie, the Elvis figurine, or any awful gift you've received and haven't had the heart to trash. This theme party is simple — attendees just wrap and bring the tackiest gift they've ever received and the host runs a gift exchange with the duds. Take the theme further by having the gang vote on who brought the tackiest gift and award that person with a prize. You could also serve a buffet of tacky (but delicious) food like cheese balls and Jell-O molds. Be prepared for a few surprises with this party. One person's trash is another person's treasure. And some people just look better in piano key ties than others.
Grinch party
This is the perfect party theme when you're deep into the holiday party season and tired of the red and green festivities. Ask everyone to come in black and decorate your place as if the Grinch just busted in and took all of the decorations and presents. Put up signs with moratoriums on holiday cheer, severe dark cocktails, like a chocolate liqueur, and don't play any holiday songs. Then set up a treasure hunt to find Christmas again. The treasure can be a bucket of decorations, CDs of holiday music, and little favors for all of the party-goers. Have your guests re-seize the party for Christmas by decorating, playing seasonal tunes, and spreading the holiday cheer.
Ugly sweater party
For a fun twist on holiday chic, have all of your partygoers come in their ugliest holiday sweater. It takes the stress off of a formal dress code and is a total conversation starter among guests who don't know each other. Just be sure you keep the heat in check for the night. It gets hot under wool turtlenecks!
Celebrity party
With the same group of people congregating again and again at each party, spicing the festivities up with a game will be a welcome change. Celebrity is a super fun parlor game that involves no special equipment, and the rules are simple. Write down the names of several celebrities on slips of paper and throw them all into a hat. Divide your gang up into teams and have each team take turns with one person reaching in, picking out a name, and seeing how many celebrities they can get their team to guess in 60 seconds without actually saying the names of the celebs. As your skill increases, you can up the stakes by limiting the clue words or turning it into charades.
Christmas in Hawaii party
Everyone else is doing winter wonderlands this time of year. Take your party in the other direction with some tropical flair. Turn up the heat in your apartment, get some fruity drinks with umbrellas, and crank up the island music. Decorate with flowered leis, dress Santa in a tank top and put up palm frawns instead of mistletoe and you've got yourself a party.
With these party ideas, you'll be having more than just happy holidays this year, you'll have memorable ones.