(page 2 of 2)
Give thanks for friends
As much as you'd like to travel across country to be with your family for Thanksgiving, you and some of your friends must stay put due to work schedules or budget constraints. That doesn't mean you have to go turkey-less on the deliciously celebrated holiday.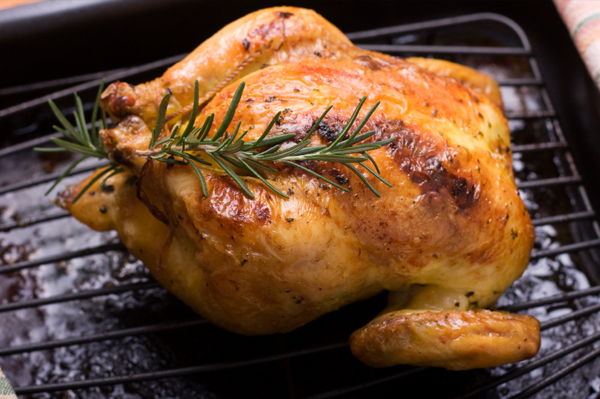 Girls-only Thanksgiving recipes
Bussen shares two of her most delicious comfort food recipes for Thanksgiving, both featured in her book Simple Stunning Parties at Home.
Roasted maple-glazed Cornish game hens recipe
Serves 6
Roasting these Cornish hens is much easier (and quicker) than cooking a large turkey and everyone gets drumsticks and breasts!
Ingredients:

6 Cornish game hens
Salt and pepper
6 tablespoons butter
1/2 cup maple syrup
1/2 cup hot water
Directions:
Preheat your oven to 425 degrees F. Rinse the birds and pat dry. Season with salt and pepper and arrange in a roasting pan with deep sides.
In a saucepan, melt the butter and remove it from the heat. Pour the melted butter over the birds and put them in the oven, uncovered. Let them brown for 10 minutes.
In a mixing bowl, combine the maple syrup with hot water. Reduce the oven temperature to 325 degrees F and baste the birds with one-third of the glaze, using a baster.
Check the birds every 10 minutes, basting them each time. If they start to brown too much, cover the pan with foil and continue cooking for approximately one hour and five minutes (including the browning time) or until a meat thermometer reads 165 degrees F when inserted into the meaty part of the thigh.
White lasagna recipe with wild mushrooms
Serves 6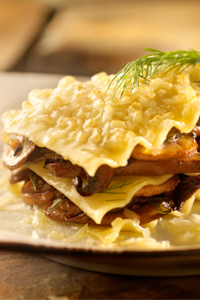 You can substitute light versions of all the dairy ingredients in this recipe if you like, but definitely look for really great mushrooms at your local farmers market or grocery store.
Ingredients:
2 tablespoons olive oil, plus additional for the baking dish
1 medium yellow onion, minced
1-1/4 pounds wild mushrooms, washed, woody stems removed, and chopped
1/2 cup white wine
1 egg
1 pound ricotta cheese
3/4 pound dry lasagna noodles
2 cups shredded Gouda cheese
1/2 cup grated Parmesan cheese
Salt and pepper
Directions:
Preheat the oven to 375 degrees F.
In a saute pan, heat the olive oil. Add the onion and cook until it is translucent. Add the mushrooms and saute until they soften, about three minutes.
Add the white wine and reduce, about five minutes, then remove mushrooms from the heat.
In a bowl, beat the egg lightly. Add the ricotta and mix. Set aside.
Grease an 8 x 12-inch baking pan with olive oil. Place a small amount of the mushroom mixture on the bottom of the pan.
Add a layer of pasta, overlapping slightly. Top the noodles with one-quarter of the mushrooms, followed by one-quarter of the ricotta, one-quarter of the Gouda and one-quarter of the Parmesan cheese. Season with salt and pepper.
Add a layer of pasta. Repeat the process, using one-half of each of the remaining ingredients. For your final (third) layer, use the rest of the ingredients.
Bake the lasagna, covered with foil, for 55 minutes. Remove the foil and bake for another 5 to 10 minutes, or until the cheese is melted and golden brown. Let stand for at least 10 to 15 minutes before serving.
More Thanksgiving recipes and tips
Thanksgiving on a budget
4 Cookbooks with budget-friendly Thanksgiving dinner ideas
Thanksgiving turkey recipes for two