Healthy
Quinoa Dishes
Tired of eating the same old pasta or rice dishes? Looking for a delicious gluten-free grain? The ancient grain quinoa (pronounced "keen-wa") is your side-dish solution. Quinoa is a quick-cooking protein-rich grain that can easily replace pasta or rice in many of your favorite fall dishes. Here's more on quinoa and a few healthy hearty quinoa recipes for the fall and winter seasons.
(page 2 of 2)
Healthy quinoa recipes
Quinoa Mushroom and Spinach Pilaf
Makes 8 servings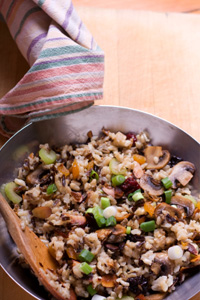 Ingredients:
1 onion, diced
3 cloves garlic, minced
1 tablespoon olive oil
2 cups uncooked quinoa, rinsed
1 cup canned lentils, rinsed
2 cups fresh mushrooms, chopped
1 quart vegetable broth
1/2 bag fresh baby, stems removed
Directions:
1. In a large saucepan, saute onion and garlic in oil until translucent and golden. Stir quinoa, lentils, and mushrooms into onion and garlic mixture.
2. Stir broth into mixture, cover, and let simmer for 15 to 20 minutes or until quinoa is cooked through.
3. Take the pot off the heat and stir in spinach. Place lid back on saucepan and let sit for 5 to 7 minutes. Serve warm.
Quinoa and Chestnuts
Makes 8 servings
Ingredients:
2 cups uncooked quinoa
2 cups chicken broth
2 links sweet Italian sausage, diced
2 tablespoons olive oil
6 whole roasted chestnuts, peeled and chopped
8 rosemary leaves, minced
2 sprigs thymes, minced
Salt and pepper to taste
Directions:
1. Cook quinoa according to package directions, substituting the chicken broth for water.
2. Saute sausage in oil then stir in chestnuts, rosemary, and thyme. Season with salt and pepper.
3. In a large bowl, toss quinoa and sausage mixture. Serve warm.
Fruit and Nut Salad
Makes 4 servings
Ingredients:
1-1/4 cups uncooked quinoa
1/2 cup cranberries
1/2 cup pomegranate arils or seeds
1 avocado, seeded, peeled, cubed
1/4 cup chopped walnuts
1/4 cup pumpkin seeds, toasted
1/4 cup raisins
Directions:
1. Cook quinoa according to package directions until tender.
2. In a large bowl, combine quinoa with cranberries, pomegranate seeds, avocado, walnuts, pumpkin seeds, and raisins. Serve warm or chilled.
More on quinoa and tasty quinoa recipes