Delicious
Vermont Dishes
When you think of Vermont, do you think of thick sweet maple syrup pouring over fluffy pancakes or memorably sharp cheddar cheese making a bold statement in a sandwich or melted into a soup? Vermont is certainly known for its syrup and cheese, but this food-abundant state is actually a four-season mecca of fresh produce, farm-raised meats and dairy, and imaginative dishes that deliciously illustrate Vermont's rich culinary traditions. The cookbook Dishing Up Vermont: 145 Authentic Recipes from the Green Mountain State showcases the best of the impressive range of recipes from Vermont's chefs and food producers, including profiles of the people and places that make the state's food scene so vibrant. Here are three signature harvest recipes proving that Vermont's autumn offerings go well beyond syrup and cheese.
(page 3 of 3)
Cavendish Quail with Maple Onion Glaze
Serves 6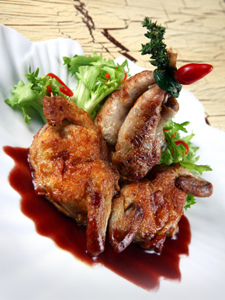 This elegant dish showcases succulent quail from Vermont Quality Meats, a cooperative of farmers whose goal is to sell a variety of Vermont meats, poultry and eggs direct to discriminating chefs around the country. The flavorful sweet maple syrup glaze makes an already delicious bird even more memorable.
Ingredients:
12 semi-boneless quail
Salt and freshly ground black pepper
2 tablespoons unsalted butter
3 tablespoons olive oil
1 large Spanish onion, peeled, sliced
1/2 cup dry white wine or dry sherry
1/2 cup pure maple syrup, preferably Vermont dark amber
Directions:
1. Preheat oven to 300 degrees F. and place a shallow baking pan on the center rack to warm.
2. Rinse quail inside and out. Pat quail dry with paper towels and season inside and out with salt and pepper.
3. Heat 1 tablespoon butter and 1 tablespoon olive oil in a large skillet over medium-high heat until hot. Add 6 quail and brown on each side, about 3 minutes per side. Transfer quail to the preheated shallow baking pan.
4. Add remaining quail and brown in the same manner. Transfer to baking pan with other quail. Place in the oven to keep warm.
5. Add remaining 1 tablespoon butter and 2 tablespoons olive oil and the sliced onion to the same skillet and saute until onions brown, about 10 minutes.
6. Add wine or sherry, loosening any browned bits of food at the bottom of the pan. Cook until liquid is reduced by half, add maple syrup, and heat until liquid thickens.
7. Remove skillet from stovetop, remove quail from the oven, and toss quail in the onion glaze. Serve immediately.
Intrigued by these Vermont harvest recipes but craving the state's veritable variety of artisan and farmstead cheeses? Read about Vermont's Cheesemakers Festival and try these Vermont cheese and wine pairings.
More Harvest recipes