Elegant Bites
& Chablis
A bright white wine from its namesake northernmost wine region of Burgundy, France, Chablis wines are made from 100 percent Chardonnay grapes. Characterized by a greenish-yellow color and star bright clarity, Chablis wines often have a flinty or steely character, green apple-like acidity, and tend to mellow with age. Chablis wines pair extraordinarly well with seafood as well as tomatoes and mild cheese, as you'll see in the following four fabulous Chablis-kissed appetizer recipes.
(page 2 of 4)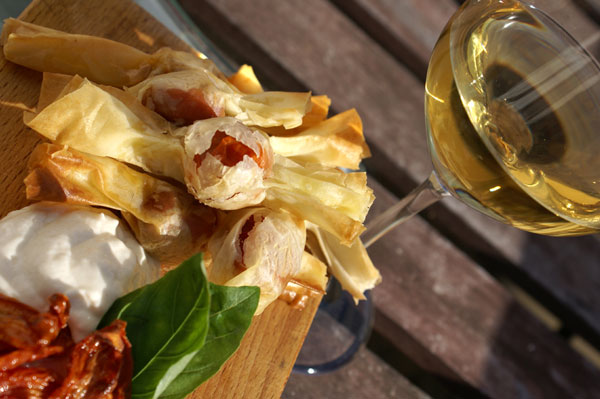 Cherry Tomato Sweets
Serves 6

Ingredients:
40 cherry tomatoes
2 tablespoons of olive oil plus more for brushing
1 tablespoon sugar
Fleur de sel or sea salt to taste
Freshly ground black pepper to taste
Pinch of granulated sugar
Phyllo

Recommended pairing: Chablis of your choice
Directions:
1. Preheat the oven 250 degrees F.
2. Rinse and dry cherry tomatoes, then pour them into a salad bowl. Add a splash of olive oil, a bit of salt, pepper and sugar. Toss to coat.
3. Spread cherry tomatoes on a baking sheet and bake for 1 hour or until they start to have tiny wrinkles, but before they get browned. Set aside to cool.
4. Lay out 3 stacked phyllo sheets and brush with olive oil. Use a sharp knife and cut sheet into 40 rectangles large enough to fit around a single tomato. Lay out another 3-sheet layer, if necessary.
5. Increase oven heat to 400 degrees F. Wrap a tomato in each rectangle and brush with olive oil to seal. Place them on the baking sheet and bake 10 minutes or until phyllo is golden and crispy.
6. Serve warm with salsa, tsaziki or another sauce of your liking.
(8 Things to do with cherry tomatoes)
Next up: Cappuccino of Tomatoes and Mozzarella