Tips For
Super Ceviche
Summer begs for meals made with fresh fish. Ceviche, the Latin dish featuring fish marinated and literally cooked in a citrus-based mixture, makes for an ideal summer appetizer or light but satisfying main course meal.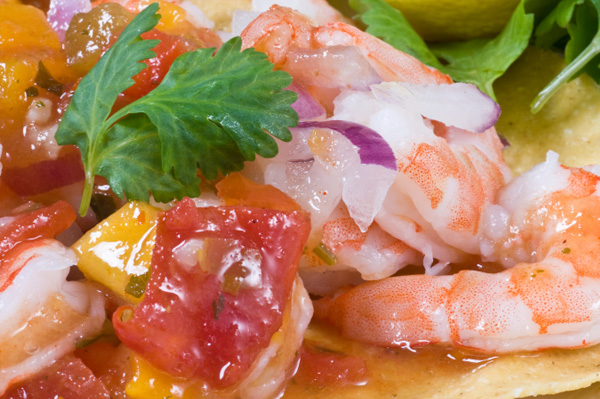 Tips for making ceviche
1. Pick your fish
Just about any fish or shellfish can be used in a ceviche. Popular choices are mahi mahi, red snapper, halibut, sea bass, squid, shrimp and lobster, but you can include any fish that tastes good to you.
2. Use the freshest fish
Since ceviche is made with raw fish that isn't cooked with heat, it is very important to use the freshest fish and shellfish you can find at a reputable fishmonger. You can also par cook your fish before adding it to the ceviche, if you aren't comfortable using raw fish.
3. Try Latin variations 
Each Latin country has its own version of ceviche. Typically ceviche in Peru (which is their national dish) is made with a white fish, red onions and chili pepper. In Chile, ceviche is made with sea bass, grapefruit juice and plenty of cilantro. And in Mexico, ceviche is made with red snapper, lime and peppers. Latin countries have a wide variety of variations of ceviche that you can use as inspiration for your own ceviche recipes.
4. Make a citrus-based marinade
The citrus juice in the ceviche marinade is what "cooks" the fish, by breaking down the inner structure of the fish flesh. Most ceviche marinades contain two or three different citrus juices along with some type of spicy pepper, cilantro, tomatoes, onions and avocadoes.
5. Serve your ceviche
Ceviche is most commonly served at lunch in Latin countries, just after the fish is freshly caught. By evening, the fish is no longer considered "fresh." In the US, ceviche is eaten any time of the day and in many different dining settings. Serve your ceviche with tortilla chips or crackers, and be sure to drink up all the ceviche juices when the fish is gone.
Next page...ceviche recipes