Kitchen
Essentials
Want to be a better cook? Make sure you have these 10 essential kitchen tools.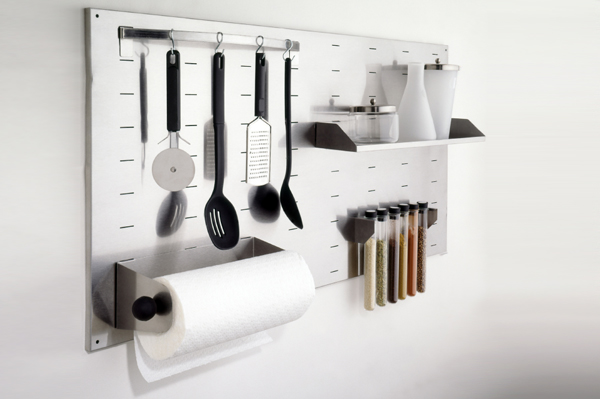 The right kitchen tools will improve your cooking
Blair French, New York life stylist, says having the right kitchen tools can make your time in the kitchen more enjoyable and improve your cooking skills. In addition to her lifestyle coaching expertise, French draws on her years of experience in catering to help clients transform their kitchen into a cooking haven that allows for delicious culinary creativity. Here are the top 10 kitchen tools that French says no kitchen should be without.
Top 10 kitchen tools
1. Sharp high-quality knives
Every cooking expert will tell you that sharp high-quality knives top the list of kitchen essentials. "As a caterer, I've been stranded on many a 'kitchen island' in clients' homes with nothing more than a bunch of expensive, useless, often dull knives," says French. "As a result, I always bring my chef's knife – it's the most essential of them all." The life stylist also suggests a sharp paring knife and serrated knife.
High-quality doesn't necessarily mean the most expensive. French recommends stocking your knife collection with knives that feel balanced and comfortable in your hand as well as have a decent weight to them. Also, sharp knives will cut better and even prevent you from cutting yourself. French adds, "I've hurt myself more often working with dull knives by overcompensating with more muscle power to do the job the knife should be doing."
2. Hardwood cutting boards
Cutting boards are invaluable in the kitchen. They not only protect your counter, they help keep knives sharper and allow you to easily transport cut food from one place to another. French recommends cutting boards made of hardwood that provide adequate cutting space. She says, "I personally prefer hardwood cutting boards such as maple, mesquite or walnut. Bamboo is nice, too, and less expensive."
Regardless of the cutting board you choose, make sure that it is large enough to accommodate the amount of food you will be cutting. "Adequate size and space are not only essential to your cooking enjoyment, but also for keeping your chopped goods from rolling [onto the counter or floor]," adds French. Keep a collection of cutting boards near the stove so you always have a clean cutting board within reach.
3. Mixing bowls
A durable (and even colorful) set of mixing bowls can make your meal prep time less messy and more efficient. French suggests mixing bowls made of stainless steel or another nonreactive material so "you needn't worry about your tomato sauces and lemon pepper marinades tasting like the bowl."
Buy a set (or two) of mixing bowls that nest; they will easily store and save space. Additionally, the different sizes of bowls can accomplish many different culinary uses, including mixing, whipping, separating, combining and storing. Colorful bowls will also brighten up your kitchen.
4. Measuring cups and spoons
One set of measuring cups and spoons is essential, but two or more sets will allow you to measure different ingredients in similar amounts without having to wash and rewash.
Measuring cups and spoons are especially important in baking, when precise amounts of ingredients are required, but these handy tools can be used in every recipe. As a bonus, a large measuring cup can even double as a ladle.
5. Grater
A grater is the perfect tool for shredding cheese, but this multi-purpose gadget is ideal for grating other flavorful ingredients. Large hole graters can shred potatoes, carrots, apples and other produce. Small hole graters or microplanes can grate ginger, garlic, spices and citrus peel.
French says, "I have yet to find a better way to grate cheese, fresh nutmeg or make citrus zest. And trust me on this one – I've tried. A grater is the greatest!"
6. Sieve or strainer
One of French's favorite kitchen tools, a sieve or strainer can be utilized for a wide range of kitchen needs. You can use it to drain pasta, rinse canned beans, make yogurt cheese, remove berry seeds from berry sauces or coulis, strain herbs and spices from sauces, remove blanched vegetables from boiling water, sift dry ingredients and even make citrus juice. Sieves and strainers come in a variety of sizes and can be nested in the cabinet to save space.
7. Whisk
Whisks are another invaluable kitchen tool that can be used for both wet and dry ingredients. A small whisk can mix up a brown sugar cinnamon topping for muffins and be used to beat the eggs needed for the muffin recipe. A larger whisk can combine the dry ingredients for a cake then be used to make whipped cream.
Electric mixers are definitely the way to go for big jobs or if you happen to whip and beat ingredients on a frequent basis. But an assortment of whisks can make small jobs a breeze.
8. Wooden spoons
Wooden spoons are ideal for stirring sauces and batters as well as serving food and tossing salads. Wooden spoons, which come in an array of different woods, shapes and sizes, won't scratch nonstick cookware and won't melt like some plastic or synthetic spoons. Buy a variety of different types of wooden spoons and keep them within arm's reach while cooking.
9. Spatula
Spatulas, also called turners or scrapers depending on the shape, encompass a large array of different-sized utensils. Turners, which are wide and flat can be used to flip or transfer food. Baking and pastry spatulas, which are long and skinny, make short work of frosting cakes and other desserts. Scrapers, which come in an array of shapes and sizes, can be used to scrape batter or other wet ingredients from mixing bowls. Keep your kitchen utensil drawer stocked with one or two of each.
10. Kitchen tongs
Another nifty kitchen tool, kitchen tongs can meet many kitchen needs. Tongs can be used to toss pasta, vegetables and salad before serving. They can safely transfer hot food from the grill or pan to a dinner plate. You can use tongs to protect your hands from freezing when you are rummaging through your freezer. Tongs are also an ideal utensil to serve foods included in a buffet.
There are certainly far more kitchen tools to choose from, but no cook should be without these 10 kitchen must-haves. French says, "While there are variations with each of these utensils (i.e., slots, sizes, materials, etc.), I am fairly content with this assortment and believe them to be sufficient for most tasks in the kitchen."
Can't get enough kitchen tools and gadgets? Keep reading.