Homemade
Fizzy Fun
Last week I brought home some pomegranate molasses for a recipe. After using it for its intended purpose, I took a little taste of the molasses - and it delivered a very intense flavor sensation. On a whim, I put some ice in a tall glass, poured in a tablespoon or so of the pomegranate molasses, then poured some cold seltzer over it. Instant homemade soda! Not only was it a beautiful color, it was delicious - and healthier than regular pop. Give it a try - here's an easy guide for making your own homemade soda.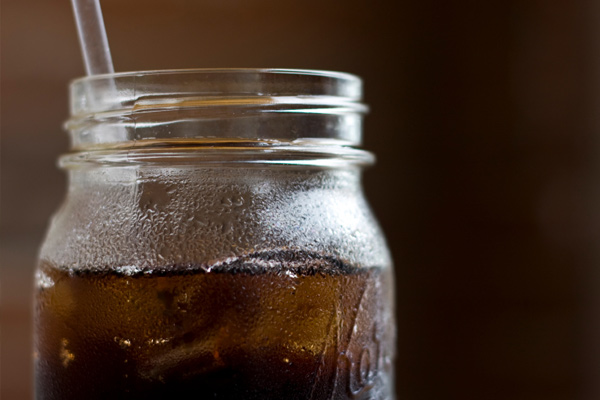 How to make homemade soda
There are a couple of ways to make soda. One method is more involved and takes a fair bit of time and equipment. We're talking about actual brewing. While this makes great sodas, such as root beer and ginger beer, there is an easier method. I'm talking about the super simple way to make soda using intensely flavored and sweetened syrup and seltzer water. While you can find syrups to flavor soda at the grocery store, it's more fun to make your own.
One of the great things about making soda in this way is that you can control the intensity of the flavor and the relative sweetness of the resulting beverage. You can experiment with flavors and even use real fruit to make the syrups. Then once you have made your soda, you can make fabulous soda creations. There's nothing like an ice cream float with homemade fruity soda.
Making syrup for soda is pretty much making a simple syrup (sugar and water) and adding flavoring. It's very easy. To use fresh fruit, choose fruits that are very ripe and juicy and either put them through a juicer or puree them and press through a strainer. If you use canned or bottled juices, look for juices that have very high natural juice content, and a very low sugar content. Now you've gotten the idea, here's the easy way to make homemade soda.
Basic Soda Syrup
Makes about 1/2 cup
Ingredients
1/2 to 3/4 cup water
1 cup granulated sugar
1/2 cup fresh fruit juice or concentrated fruit juice (the more concentrated the juice, the more intense the final flavor)
Directions
Combine the ingredients in a heavy saucepan. Bring to a boil, then turn down the heat and let simmer until the mixture is reduced by half. Taste the syrup to check the relative sweetness (I like it less sweet while my kids like it more sweet).
To intensify the flavor, you can add a dash of an appropriately flavored extract. Store the finished syrup in a squeeze bottle in the refrigerator for instant access. To make homemade soda, simply add syrup to a glass of ice and top off with seltzer water or club soda.
| | |
| --- | --- |
| | The syrups are also tasty drizzled over ice cream or other desserts. |
Suggestions for flavors
Lemon-lime
Mango-papaya
Pomegranate
Blueberry
Currant
Strawberry
Cantaloupe
Have fun experimenting with any fruit flavor that sounds good to you!
More alternatives to soda pop
Four healthy alternatives to diet soda
Reasons to ditch the diet soda
Superdrinks
More From SheKnows Explorer