Almond flour & almond meal recipes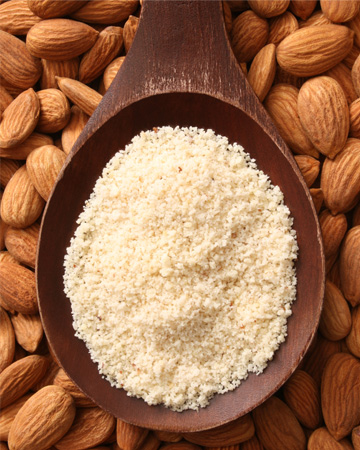 Cooking with almond flour
I wasn't much of a nut fan growing up. Aside from peanut butter, any kind of nut in any preparation received an instant "Euw!" from me. I have no idea why. Maybe my taste buds needed maturing, maybe I just needed time. Regardless, I love nuts now.
They are versatile, flavorful and packed with protein and healthy fats. And did I mention versatile? Particularly almonds and almond flour (or almond meal).
Cooking with almond flour or almond meal
There are so many ways to use nuts - but, I don't need to go into that right now. I am sure you are already thinking about the ways you use nuts, from snacking to ingredient to garnish. But do you use nut meals or nut flours? Specifically, do you cook with almond flour or almond meal? I mean really cook and bake with it, as it is more than simply an ingredient in marzipan.
We've used almond flour (also called almond meal) for years, but almost exclusively at the holidays when we make my husband's favorite Christmas cookie, the cinnamon star. The rest of the year, I'd think about it fairly often, but use it only occasionally. You can use almond flour in cookies, yes, but also in pie and pastry crusts, cakes, and quick breads, and even in soups or in a main dish. It's low-carb and gluten-free. It also lends a really lovely flavor in every dish in which it is used. Almond flour is truly worth a try in many of your favorite recipes.
You can make almond flour, of course, by grinding almonds in a food processor - but be careful not to over-process or you'll end up with almond butter (admittedly tasty but not applicable in recipes calling for almond flour)! Almond flour or almond meal is also more and more available in stores, if you don't want to make your own.
Among the ways you can use almond flour and almond meal:
Use in place of flour when breading chicken or fish. You do have to take extra care not to let the almond flour scorch.
When making pastry flours, substitute a portion of the flour with almond flour.
When making cheesecake, substitute almond meal for graham crackers in the crust.
Use almond meal in place of breadcrumbs in meatballs.
Add almond flour or almond meal to Bechamel sauce for a delicious finish to cauliflower or other vegetables.
Citrus almond cake
Serves 10 to 12
This is lovely with a dollop of softly whipped cream.
Ingredients:
1 pound citrus: lemons, oranges, or tangerines, or a combination
6 eggs
1 cup plus 2 tablespoons sugar
2-1/3 cups almond flour or almond meal
1 teaspoon baking powder
Directions:
Place the whole citrus in a medium-sized saucepan and cover with cold water. Bring the water to a boil, reduce the heat and let simmer for 2 hours, keeping the fruit covered with water. Let cool.
Cut the cooled citrus in half and remove any seeds. Place the citrus - skin, pith and all - in a food processor and pulse several times until the fruit is finely chopped.
Preheat oven to 375 degrees F. Line a springform pan with parchment paper (including the sides), and spray the paper with cooking spray.
In a bowl, beat the eggs well. Add the sugar, almond meal, and baking powder. Then add the chopped fruit. Mix well. Pour into the prepared pan. Bake 1 hour or until a cake tester comes out clean. Cool completely before removing from the pan.
Almond pancakes
Serves 2
Ingredients:
1 cup almond flour
2 eggs
1/4 cup sparkling water
2 tablespoons canola oil
1/4 teaspoon salt
1 tablespoon honey
Directions:
Combine all the ingredients and cook as you would other pancakes. Since there's no wheat flour, and thus no baking powder to leaven the wheat, they won't bubble on top the way regular pancakes do. Watch them closely and flip when the underside is lightly golden.
Almond quick bread
Makes 1 loaf
Ingredients:
3 1/2 cups almond flour
3 eggs
1/4 cup melted butter
1 teaspoon baking soda
1 cup yogurt
1/4 teaspoon salt
Directions:
Preheat oven to 350 degrees F. Prepare a loaf pan by spraying it with cooking spray.
Combine all ingredients, mixing well. Pour into the prepared loaf pan.
Bake 45 to 50 minutes or until a cake tester comes out clean.
Let cool completely in the pan before slicing and serving.
Lemon and Almond Soup
Serves 4
Ingredients:
1 tablespoon unsalted butter
1 medium onion, chopped
1 pound parsnips, peeled and chopped
1/2 teaspoon ground cumin
6 cups vegetable stock
1 tablespoon chopped fresh parsley
2 cups milk
6 tablespoons almond meal
Grated rind of 1 lemon
Salt and pepper
4 tablespoons sour cream
Handful of sliced almonds, toasted
Parsley and grated lemon rind for garnish
Directions:
In a large saucepan over medium heat, melt the butter. Add the onion and saute until soft, about 5 minutes. Add the parsnips and cook another 2 to 3 minutes.
Add the cumin, stock and parsley. Bring to a boil, then reduce heat and simmer about 20 minutes or until the parsnips are tender.
Using a hand-blender, regular blender or food processor, puree the soup until smooth. Return to the pan and add the milk, almond meal and lemon rind. When the soup is just to a simmer, season with salt and pepper. Serve garnished with sour cream, almonds, parsley and lemon rind.
More recipes with almonds
Cooking with almond milk
Cooking with almond flour
Almond butter recipes