St Patrick'S
Green Beer
Drinking green beer on St. Patrick's Day is a tradition right up there with dressing in green and eating corned beef. Although coloring beer green does not have roots in Ireland (they actually frown upon it), it is part of the revelry oft celebrated on this green-themed holiday. If you want to avoid the packed bars and long lines this year, stay at home and enjoy these super simple tips for homemade green beer - and if you don't like beer, try the following green cocktails.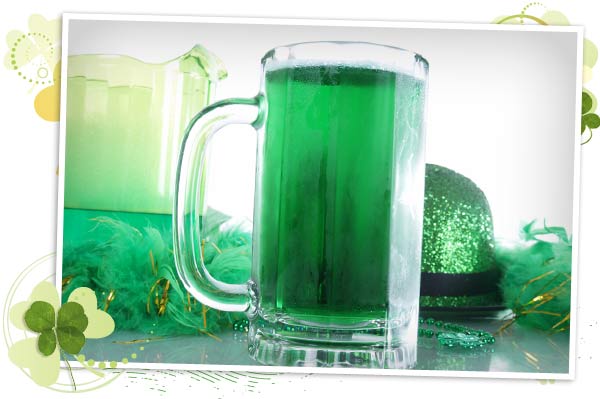 How to make St Patrick's Day green beer
Just Add Food Coloring
Making green beer is easier than you may think. There are only two ingredients: beer and food coloring. You can technically dye beer almost any color (i.e. red for Valentine's Day, orange for Halloween, blue for Independence Day, etc.). Once you get the hang of it, colored beer can be a fun addition to any holiday party.
Use a light-colored beer
The beer you use is important. You want to use a light-colored beer so the food coloring will easily mix. Using a dark beer (like Guinness) will require too much food coloring which may change the flavor of the beer, or not even color the beer at all.
Start with food coloring
Start by adding three drops of green food coloring for each bottle of beer. Adding the food coloring to the bottom of an empty glass works best because when you pour the beer on top, it will help mix it. Adjust the color by adding more dye if you like.
Blue and yellow make green
Blue food coloring works also, when mixed with a brighter yellow beer making a nice green colored brew. But be sure to test a drop of blue in a little of the beer to see the result.
>>UP NEXT: St. Patrick's Day Cocktail Recipes