Green & Healthy
Snack foods play an important part in our American food culture. Peek into any shopping cart at the grocery store and you're likely to see an array of salty and sweet snacks of some sort. But there is a new healthy habit underway taking America's snack aisles by storm. People are getting hooked on organics and the trend is taking hold at your local food market. Over the past few years organic snacks sales have skyrocketed as they continue to make a strong showing on stores shelves. USA Today reports that sales of organic chips, nuts, nutrition bars and candy jumped 29.6 percent last year alone.
Since healthy eating habits are established early in life, it's important to introduce nutritious and healthy foods at family meals and snack times. Beyond this, research indicates that organic produce and products are not just a luxury or novelty. They are a necessity for good health, not just in avoiding chemical pesticides but also for the nutrients they provide, where conventionally grown counterparts cannot compete.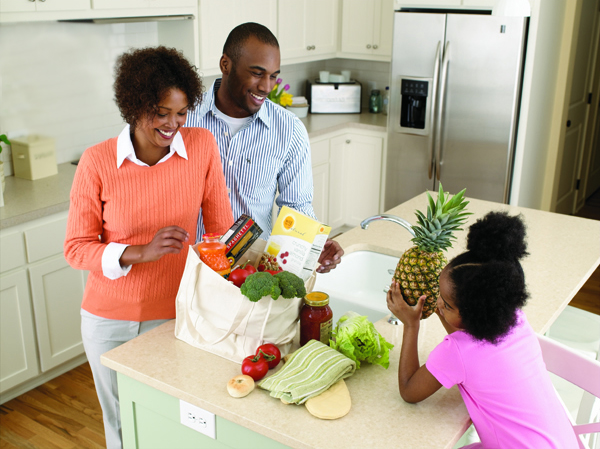 Not only are organic snacks abundant on store shelves and in produce sections, but due to consumer demand they are also more affordable than ever before.
Below are 10 easy organic snack ideas to try with your family:
1. A rainbow of organic vegetables
Create an organic vegetable platter filled with color. Instead of pulling out salty and sugary treats for munching during family home movie night, create a simple and fun veggie platter. Feature a variety of colorful organic vegetables including grape tomatoes, carrot sticks, celery sticks and other organic veggies along with your family's favorite organic dressings for dipping. With flavorful dressings such as organic roasted garlic balsamic vinaigrette, kids will find eating vegetables much more appealing.
2. Healthy & hearty organic selections
For a hearty snack, why not heat up a pre-made frozen organic pizza? They are full of flavor and super easy to prepare. Surprise your family with tasty organic pizzas such as margherita pizza, spinach-feta pizza or traditional pepperoni pizza.
3. Fresh organic fruit
Create a fresh fruit salad with organic blueberries, strawberries, raspberries and dark sweet cherries. Serve with a dollop of their favorite yogurt on top or drizzle fruit with a few tablespoons of 100 percent pure organic maple syrup. This sweet treat is not only yummy but is also packed with a tremendous amount of anti-oxidants for healthy deliciousness.
4. DIY hummus
In a food processor, blend two cans of organic garbanzo beans, garlic, lemon juice and tahini to create a flavorful hummus recipe. Serve with organic cracked black pepper crackers or organic blue corn chips for dipping.
5. Nachos with a healthy twist
Make a platter of yummy nachos by layering organic tortilla rounds with cooked organic ground beef, melted organic cheese, organic blended black beans topped with sour cream and organic salsa.
6. Savory smoothies
Fill a blender with a variety of frozen organic berries such as blueberries, strawberries, raspberries and dark sweet cherries along with yogurt, ice, sliced banana and dash of 100 percent pure maple syrup for extra sweetness. Serve these refreshing fruit smoothies to your whole family, or prepare for the kids as an afternoon snack.
7. Simple snacks
Here's a simple snack idea: Serve a variety of organic muffins such as organic banana nut muffins with a tall glass of fresh organic milk or organic soy milk. Simple, yet satisfying!
8. Organic cereal
If you are looking for something quick yet fortifying to serve your family, why not have a bit of breakfast for lunch or dinner? Cereal, hot or cold, is eaten as a quick snack more often than you would think. With hearty organic cereals available such as crunchy vanilla granola, mango crisp and maple pecan you just might start a new healthy snack trend in your family. Don't forget to serve with organic milk!
9. Salty & spicy organic snacks
Chips and salsa have long been a staple of American snack attacks. Now, organic chips including tortilla rounds, blue corn chips, black bean tortilla chips and spicy blue corn chips are available as a healthy alternative to tradional tortilla chips. You can feel good knowing you are eating natural corn, rather than genetically altered or chemically engineered corn. Organic salsas such as fire roasted chipotle salsa, thick and chunky salsa and peach salsa, are also available to add a healthy new twist to this favorite snack standard.
10. Snack options
Since taking a trip to the kitchen often means taking time to grab a snack, make sure to have organic options available for your entire family. Along with having a bowl filled with healthy organic fruits, why not have organic animal crackers, ginger snaps or vanilla cream filled cookies on hand? Other organic snacks might include a fresh bowl of pre-popped organic popcorn or organic cinnamon apple sauce cups. Also make sure to stock the fridge with plenty of organic juice options such as organic pomegranate, blueberry, or white grapefruit juice. Having items in view and easily available will entice family members to make natural choices when snack attacks strike!