Cooking With
Almond Butter
Looking for a delectable - allergy-free - alternative to peanut butter? Almond butter is not only a delicious grab for people with peanut allergies, it is also a rich, thick spread for those who are craving ways to lower cholesterol as well as their intake of saturated fat. Best yet, almond butter can replace peanut butter in both sweet and savory recipes, giving you a delectable array of new dishes to serve for your family. Here are some scrumptiously creative almond butter recipes.
(page 2 of 2)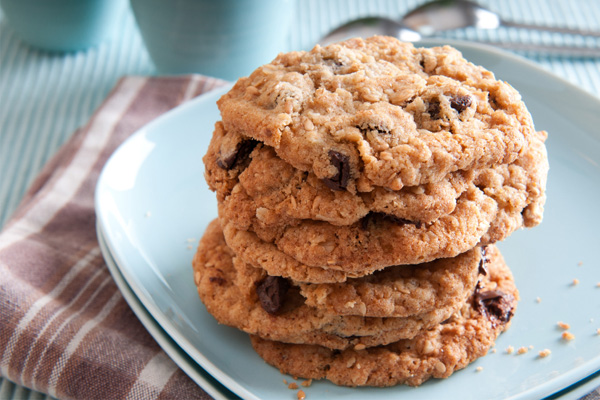 Almond Butter Chocolate Chip Oatmeal Cookies
Makes about 4 dozen
An indulgent combination of almond butter, chocolate chips and oatmeal make this a go-to cookie for every cookie lover's sweet tooth. Recipe adapted from Barney Butter.
Ingredients:
1 cup firmly packed brown sugar
3/4 cup granulated sugar
1/4 cup (1/2 stick) unsalted butter, softened at room temperature
1/2 cup non-hydrogenated vegetable shortening (such as Spectrum Organics)
3 eggs
1 (16-ounce) jar smooth almond butter
1 tablespoon light corn syrup
1/2 teaspoon almond extract
1/2 teaspoon vanilla extract
2 cups oat flour (grind oats in a food processor until fine)
2 cups oats
2 teaspoons baking soda
1 teaspoon ground cinnamon
1/2 teaspoon freshly grated nutmeg
2 cups semi-sweet chocolate chips
Directions:
Heat oven to 350 degrees F. In the bowl of an electric mixer combine sugars and shortening and beat at medium speed until well blended. Add eggs, one at a time, beating after each addition, until well incorporated. Add almond butter, corn syrup and extracts, beating until smooth.
In a separate bowl, whisk together oat flour, oats, baking soda, cinnamon and nutmeg. Add oat mixture to wet ingredients and blend until just incorporated. Stir in chocolate chips. Drop generous tablespoonfuls 3 inches apart onto baking sheets. Bake for 10 minutes or until just beginning to brown. Cool on baking sheets then transfer to wire racks.
Spanish Almond Chicken
Serves 4
Rich with robust flavor and aroma, this Spanish dish is nothing short of satisfying. The almond butter lends a delectable thickness to the sauce while the saffron, sherry, lemon and spices infuse the chicken and mushrooms with a warm and wonderful medley of tastes.
Ingredients:
1/4 cup olive oil
1 small onion, halved, thinly sliced
1 carrot, finely diced
2 cloves garlic, thinly sliced
1 (8-ounce) package sliced mushrooms
Salt and freshly ground black pepper to taste
1-1/4 pound boneless skinless chicken breasts, cut into bite-sized pieces
Pinch of saffron (rubbed finely before adding)
1/2 cup dry sherry
Juice and zest of a small lemon
1/2 cup water
Pinch of ground cloves
Pinch of ground ginger
1/2 teaspoon dried thyme
Generous 1/2 cup smooth almond butter
1 (9-ounce) package baby spinach leaves or about 4 cups
Toasted sliced almonds
Finely chopped fresh parsley
Directions:
Heat olive oil in a Dutch oven or large saucepan over medium-high heat. Add onion, carrot, garlic and mushrooms and cook, stirring often, for 3 minutes. Season with salt and pepper and continue to cook, stirring for 2 more minutes.
Add chicken and cook, stirring, until chicken is just cooked through. Meanwhile, dissolve saffron in sherry. Add sherry, lemon juice and zest, and water to chicken, stirring to combine. Bring to a simmer.
Stir in cloves, ginger, thyme and almond butter. Bring to a simmer and let cook for 5 minutes. Add spinach and cook, stirring, until spinach is wilted. Reduce heat to medium-low and let simmer for 10 minutes to combine flavors. Serve hot, garnished with toasted sliced almonds and parsley.
Toasted Sesame Almond Noodles
Serves 6 to 8
Almond butter becomes a simple savory sauce that delicately coats nutty soba noodles, which contrast nicely to the fresh crunch of diced cucumber, green onions, toasted sesame seeds and sliced almonds. This sesame almond sauce is also delish with chicken, beef or seafood sates.
Ingredients:
1 pound soba noodles
1/4 cup smooth almond butter
2 garlic cloves, crushed
1/4 cup toasted sesame oil
1/4 cup toasted sesame seeds*
1/4 cup toasted sliced almonds*
1/3 cup low-sodium soy sauce
2 tablespoons rice wine vinegar
Pinch of crushed red pepper flakes or to taste
1/4 cup finely chopped fresh cilantro
1 cucumber, halved, seeded, diced
3 green onions, sliced thin on a diagonal (green and white parts)
Freshly ground black pepper
Directions:
Cook soba noodles in a large pot of salted boiling water according to package directions. Drain well and set aside.
Meanwhile, in a food processor, puree almond butter, garlic, sesame oil, 2 tablespoons sesame seeds, 2 tablespoons almonds, soy sauce, vinegar and red pepper flakes.
Place soba noodles in a large mixing bowl and add the sesame almond sauce and cilantro and toss to coat. Add cucumber, cucumber and black pepper and toss to coat. Divide among serving plates and sprinkle with the remaining sesame seeds and almonds. Serve warm or at room temperature.
*To toast sesame seeds, place them in a dry skillet over medium heat and cook, stirring frequently, until they just turn golden. Do not overcook or they will taste scorched. Toast almonds the same way.
More recipes with almonds