Let The Meat Speak
Beef tenderloin probably is my favorite cut of meat, though we eat it only on very special occasions due to the high cost. I used to be so afraid to make this pricey meat because I was sure I'd ruin it! But then I learned that roasting nearly perfect beef tenderloin is actually quite easy to do. In fact, I think one has to really work to wreck this wonderful cut of beef. The key is to keep it simple and let the meat speak for itself.
Beef tenderloin is that good!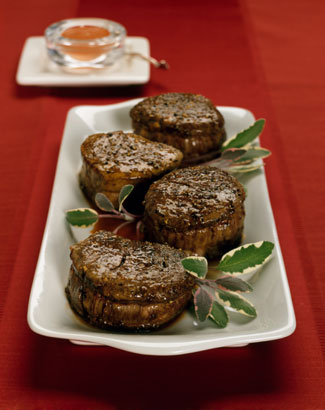 When beef tenderloin goes on special - and that's a relative term, I realize - I've been known to invent a special occasion as an excuse to make it. It's that good. Beef tenderloin is a perfect example of how good quality ingredients prepared simply make for something that is really special.
Dinners during the holiday season when we are celebrating the blessings of our lives, it's even more special. This Christmas Eve, we prepared beef tenderloin, balsamic roasted Brussels sprouts, potato gratin with regular potatoes and sweet potatoes, and a simple salad. Everyone at the table was very happy. It would make a wonderful New Year's Eve meal.
Beef tenderloin is one of those roasts that is delicious as is or with a sauce of your choosing. And leftovers are spectacular for things like lunchtime sandwiches or a beef Caesar salad. Or just plain snacking - for us, not a scrap is wasted.
How to cook beef tenderloin
Perfect Beef Tenderloin
Serves 8
Ingredients:
One (4 to 5 pound) beef tenderloin roast, preferably trimmed
4 to 6 cloves garlic, crushed
Kosher salt
Freshly ground black pepper
1 teaspoon or so rosemary
1 teaspoon or so thyme
Olive oil
Butcher's twine
Directions:
The day before serving, examine your tenderloin and trim off any excess fat or tendons. Using a mortar and pestle, grind together the garlic, salt, pepper, rosemary, and thyme, using a little olive oil to smooth it along. Rub this mixture all over the tenderloin. Cover and refrigerate 24 hours.
Remove the tenderloin from the refrigerator an hour before roasting and let it come to room temperature. Preheat oven to 400 degrees F.
Tie up the tenderloin such that it is even in thickness, tucking up the thinner tail if necessary. Insert a probe thermometer into the thickest part of the roast and place in a shallow roasting pan.
Roast 35 to 45 minutes, or until the internal temperature reaches 120 degrees F. Loosely cover with foil and allow to rest for 15 minutes before carving. And that's it. You're done! Slice and serve.
Side dish for beef tenderloin
Balsamic Roasted Brussels Sprouts
Serves 6
Ingredients:
1-1/2 pounds Brussels sprouts, trimmed and sliced lengthwise
Kosher salt
1 to 2 tablespoons balsamic vinegar
2 to 4 tablespoons olive oil
Directions:
Preheat oven to 400 degrees F.
Place the Brussels sprouts in a baking dish. Sprinkle with salt and vinegar and toss the sprouts around.
Repeat with the olive oil.
Roast for 30 minutes, tossing several times during the cooking process. Sprinkle on a little more kosher salt just before serving.
Love beef? Here are a few more recipes
How to grill the perfect steak
Skirt Steak with Avocado Corn Salad
Grilled Flank Steak