Corn Flake Holiday Recipes
Corn flakes aren't just for breakfast. You can use them in a variety of dishes, including casseroles, desserts and side dishes. If you are looking a unique twist on your traditional meals this holiday season, check out these delicious recipes using Kellogg's Corn Flakes.
(page 4 of 4)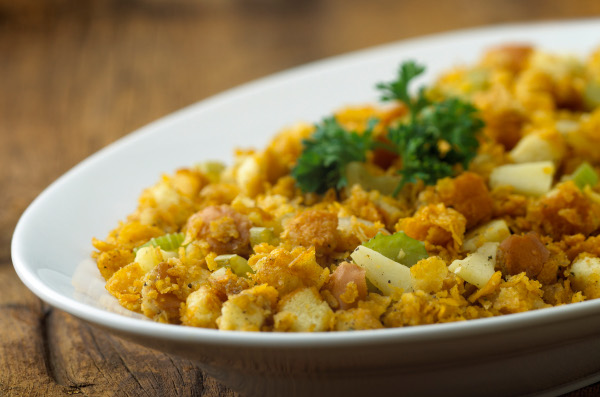 Apple-celery stuffing
Preparation Time:
30 minutes
Total Time:
30 minutes
Servings:
10
Ingredients
1/4 cup margarine or butter
1/4 cup finely chopped onions
1 cup finely chopped, peeled apples
1/2 cup finely cut celery
1/2 teaspoon salt
1/4 teaspoon pepper
1 teaspoon poultry seasoning
1/3 cup tomato juice, stock or chicken broth
6 cups Kellogg's Corn Flakes cereal crushed to 3 cups)
2 cups dry bread cubes
2 egg whites
Directions
1. In medium saucepan, melt margarine. Add onions, apples and celery. Cook until tender, but not browned, stirring occasionally. Stir in seasonings. Remove from heat.

2. In large mixing bowl, combine tomato juice or alternative, Kellogg's Corn Flakes cereal and dry bread cubes.

3. Beat egg whites until stiff but not dry. Fold into cereal mixture together with onion mixture. Mix well.

4. Use mixture for stuffing poultry or fish.

Yield: 5 cups
Note: 5 cups is sufficient for 4-5 pound bird.

For nutrition and other great recipes, visit Kelloggs.com.
Holiday recipes