Corn Flake Holiday Recipes
Corn flakes aren't just for breakfast. You can use them in a variety of dishes, including casseroles, desserts and side dishes. If you are looking a unique twist on your traditional meals this holiday season, check out these delicious recipes using Kellogg's Corn Flakes.
(page 3 of 4)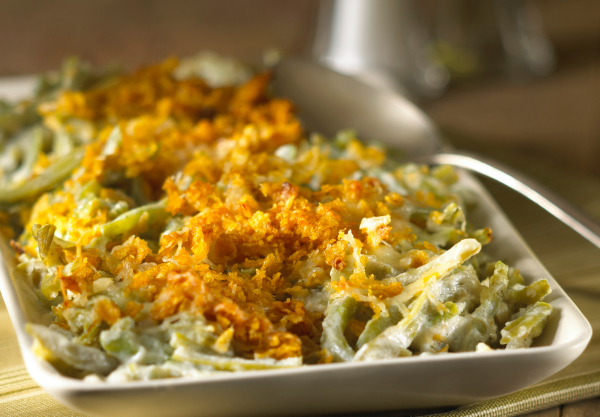 Creamy green bean casserole
Preparation Time:
20 minutes
Total Time:
40 minutes
Servings:
8
Ingredients
1/4 cup margarine or butter, divided
2 cup (4 oz.) Kellogg's Corn Flakes cereal (crushed to 1 1/2 cups)
2 tablespoons flour
1/4 teaspoon salt
1/4 teaspoon pepper
1 teaspoon sugar
1 1/2 teaspoons onion powder
1 cup low-fat sour cream
1 package (20 oz.) French-style green beans, cooked and drained
1 cup (4 oz.) shredded low-fat Swiss cheese
Directions
1. In 3-quart saucepan, melt margarine over low heat. Remove from heat. Remove 2 tablespoons margarine and mix with Kellogg's Corn Flakes cereal. Set aside for topping.

2. To remaining margarine in pan, stir in flour, salt, pepper, sugar and onion powder. Gradually stir in sour cream. Fold in green beans. Pour into 10 x 6 x 2-inch (1 1/2-quart) glass baking dish coated with cooking spray. Sprinkle cheese and cereal mixture over casserole.

3. Bake at 400 degrees F about 20 minutes or until thoroughly heated. Serve hot.
For a new twist on stuffing for your holiday turkey, check out the recipe for apple-celery stuffing on the next page.