Superfoods For
Super Health
You can't open a magazine or peruse a website without some article, mention or ad promoting superfoods - those foods that have high concentrations of disease-fighting nutrients that can improve your health and quality of life. Though there are many exotic superfoods, such as goji berries, acai berries, mangosteen, and noni, just to name a few, some of your everyday, supermarket foods can supercharge your health - and save you some money. Here are 10 of the best superfoods to include in your diet.
(page 8 of 11)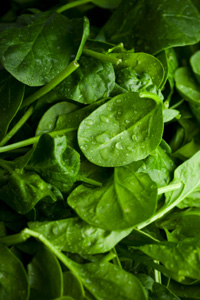 8. Dark leafy greens
Spinach, kale, chard, beet greens, arugula and collard greens are just a few of the low-calorie, nutrient-packed leafy greens. A dietary staple in promoting eye health, combating cancer, boosting brain function, and fighting heart disease, the variety of leafy greens gives you ample opportunity to include them in your diet. Design your salads around spinach or arugula, saute any of the greens with garlic and olive oil for a side-dish, add greens to soups and stews, and try these delicious recipes featuring leafy greens.