Holiday Recipes
With Pumpkin
Fresh pumpkin and canned pumpkin are quintessential in preparing the holiday menus for Thanksgiving and Christmas. Versatile and packed with nutrients, the many delicious uses for pumpkin may surprise you. Read on for a holiday-perfect array of healthy recipe ideas featuring pumpkin.
(page 2 of 2)
Healthy pumpkin recipes for Thanksgiving and Christmas
The Canned Food Alliance worked with Chef Andrew Schloss and registered dietitian Roberta Duyff to come up with the following pumpkin recipes, found on
www.MealTime.org
. They're easy, healthful and perfect to prepare for holiday meals or year-round!
No-Fuss Sweet Potato Pumpkin Mousse
Serves 6
Each serving of this easy-to-make-mousse provides 28 percent of your recommended daily intake of vitamin A and 22 percent of vitamin C. Serve as a special dessert to end a holiday feast.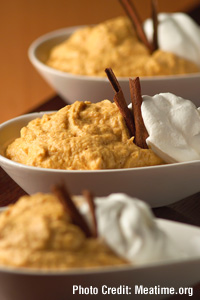 Ingredients:

1 (15-ounce) can cut sweet potatoes in syrup, drained (1/4 cup syrup reserved)
1 (15-ounce) can 100 percent pure pumpkin
1/4 cup honey
1/2 teaspoon pumpkin pie spice
1/2 teaspoon ground cinnamon
2 cups sweetened whipped cream or whipped dessert topping
Directions:

Puree sweet potatoes and reserved syrup in a food processor. Add pumpkin, honey and spices and process until blended and smooth. Scrape into a large bowl. Fold in the whipped cream (don't overmix) and serve, or store tightly covered in the refrigerator for up to 24 hours.
Nutritional Information Per Serving:
Calories 156; Total fat 1g; Saturated fat 1g; Cholesterol 0mg; Sodium 18mg; Carbohydrate 37g; Fiber 3g; Protein 2g; Vitamin A 28%DV*; Vitamin C 22%DV; Folate 8%DV; Calcium 4%DV; Iron 13%DV; Potassium 21%DV
*Daily Value
Pumpkin Lasagna
Serves 12
Italian-Americans often serve lasagna before their Thanksgiving turkey, so Mealtime.org decided to put the most iconic Thanksgiving fruit into lasagna.
Ingredients:

1 tablespoon extra-virgin olive oil, divided
2 large onions, chopped
1 (4-ounce) can sliced mushrooms, drained
3 cloves garlic, minced
1/4 teaspoon dried Italian seasoning
1 (15-ounce) can mixed greens, drained
1 (15-ounce) can 100 percent pure pumpkin
1 (15-ounce) container ricotta cheese, preferably whole milk
3/4 cup freshly grated Parmesan cheese
1/2 teaspoon kosher salt
1/4 teaspoon ground black pepper
1/8 teaspoon grated nutmeg
1 cup Alfredo sauce
15 lasagna noodles (about 3/4 pound), cooked according to package directions
Directions:

1. Heat oven to 350 degrees F. Heat 2 teaspoons of the olive oil in a large skillet over medium heat. Add onion and saute until golden brown, 5 to 10 minutes. Add mushrooms and cook until browned, about 5 minutes. Add garlic and Italian seasoning, and cook for 1 minute. Stir in the greens and heat through. Set aside.
2. Mix pumpkin and ricotta cheese in a large mixing bowl. Stir in Parmesan cheese, salt, black pepper and nutmeg until well combined. Grease the inside of baking dish with the remaining teaspoon of olive oil. Spread 1/2 cup Alfredo sauce over the bottom of the baking dish. Top with 3 noodles, covering the bottom of the dish. Spread 1/4 of the pumpkin mixture over the layer of noodles and scatter 1/4 of the green mixture over the pumpkin. Repeat layers of noodles, pumpkin and greens, until you have 4 layers of each.
3. Top with the remaining 3 noodles and spread the remaining 1/2 cup Alfredo sauce over the top. Cover with a sheet of foil and bake for 45 minutes or until bubbling around the edges. Remove foil and top with remaining Parmesan cheese. Return to the oven for about 15 minutes or until lightly browned. Rest for 15 minutes and cut into 12 squares.
Nutrition Information Per Serving:
Calories 270; Total fat 11g; Saturated fat 5g; Cholesterol 30mg; Sodium 440mg; Carbohydrate 30g; Fiber 4g; Protein 12g; Vitamin A 130%DV*; Vitamin C 8%DV; Calcium 20%DV; Iron 10%DV
*Daily Value
Apple Pumpkin Bisque
Serves 6 to 8 
This hearty mixture of pumpkin and apple is a sweet and tangy treat. Serve bisque as a starter course for the Thanksgiving or Christmas meal.
Ingredients:

1 tablespoon butter, unsalted
1 small onion, finely chopped
1 tablespoon finely chopped gingerroot
1 (14.5-ounce) can unsweetened applesauce
1 (15-ounce) can 100 percent pure pumpkin
2 (14.5 ounces each) cans chicken broth
2 tablespoons honey
1 teaspoon apple-cider vinegar
1 cinnamon stick
1 small, dried chile pepper
Pinch ground nutmeg
Salt and ground white pepper, to taste
1/2 cup sour cream or fresh cream
Directions:

Melt butter over medium heat in a large, heavy saucepan. Saute the onion and ginger until onion is tender, about 4 minutes. Add applesauce, pumpkin, chicken broth, honey, vinegar, cinnamon, chile, nutmeg, salt and pepper, and simmer about 15 minutes or until flavors are blended. Stir in sour cream just before serving.
Nutritional Information Per Serving:
Calories 110; Total fat 4.5g; Saturated fat 2.5g; Cholesterol 15mg; Sodium 170mg; Carbohydrate 17g; Fiber 4g; Protein 3g; Vitamin A 170%DV*; Vitamin C 15%DV; Calcium 4%DV; Iron 4%DV
*Daily Value
Related Holiday Recipe Articles
Easy elegant holiday menu
Succulent Thanksgiving menu
More tips to have a terrific Thanksgiving