Candy Cocktails
Even if you have outgrown the plastic pumpkin full of miniature candy, you can still revel in the Halloween spirit by sipping on a candy cocktail that puts trick or treat candy to shame. Whether you throw your own costume bash or attend someone else's, be sure to sink your fangs into a cocktail glass of these sweet, spirited, mixed drinks.
Trick or treat Tootsie Roll Shot
Serves 1
Recipe courtesy of Three Olives Vodka
Ingredients:

2/3 ounce chocolate vodka
1/3 ounce amaretto
Drizzle of chocolate syrup
Directions:
Shake ingredients over ice and strain into a shot glass.

Peppered Petal Punch
Serves 1

Recipe courtesy of Wild Hibiscus

Ingredients:

1 teaspoon pink peppercorns
1 ounce gin
1/2 ounce cognac
1/4 ounce lichi liqueur
2 ounces fresh pink grapefruit juice
1/4 ounce hibiscus syrup
Dash Peychaud's Bitters
Soda water
Hibiscus flower
Lychee fruit
Directions:

Crush peppercorns in the bottom of a mixing glass with a muddler.

Add gin, cognac, liqueur, juice, hibiscus syrup and bitters and shake vigorously for 10 seconds.

Strain twice into a punch cup or pond glass and top with soda water.

Garnish with an hibiscus flower stuffed with a lychee fruit on a skewer.
POM Truffle
Serves 1
Recipe courtesy of POM Wonderful

Ingredients:

1 ounce freshly squeezed pomegranate juice or 100% pomegranate juice*
1-1/4 ounce dark crème de cacao
1-1/2 ounce black cherry vodka
Maraschino cherries
Dark, milk or white chocolate shavings
Directions:

Shake juice, crème de cacao and vodka together and strain into a martini glass.

Coat the cherries with the chocolate shavings and place them on a pick for garnish.
*To juice a pomegranate, cut it in half (as you would a grapefruit) and use a citrus reamer or a juicer to extract the juice. Pour the mixture through a cheesecloth-lined strainer or sieve. One pomegranate will produce about 1/2 cup of juice.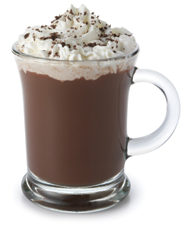 Peppermint Patty
Serves 1

Ingredients:

3/4 ounce chocolate liqueur (try Godiva)
3/4 ounce Rumple Minze
1 cup hot cocoa
1 ounce whipped cream
Directions:
Stir liqueur and Rumple Minze into the cocoa and top with whipped cream.

Gummy Worm Martini
Serves 1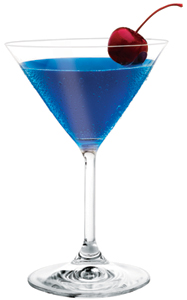 Recipe courtesy of Three Olives Vodka
Ingredients:

1-1/2 ounces mango vodka
1-1/2 ounces raspberry vodka
1/2 ounce Blue Curacao
1 ounce lemon-lime soda
Maraschino cherry
Directions:

Shake vodka, Blue Curacao and soda over ice and strain into a chilled martini glass.

Garnish with a cherry.
Related Articles