Make-Ahead Meals
Looking for savory ways to save time in the kitchen while keeping you and your family well-fed? Sandra Lee, star of Semi-Homemade Cooking on the Food Network and author of Sandra Lee Semi-Homemade Money Saving Meals suggests meals that you can make-ahead and freeze for those days when you can't spend your afternoon preparing the family dinner. Here are some helpful tips and three mouthwatering make-ahead meals.
(page 5 of 5)
Pork Chops and Apples
Serves 6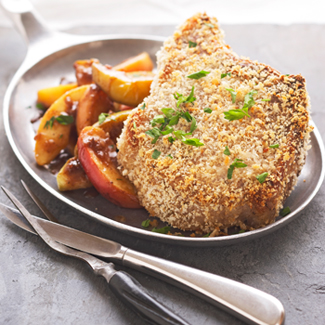 Ingredients:

6 thick-cut pork chops
1/2 cup refrigerated egg product
2-1/2 teaspoons pumpkin pie spice
1 teaspoon garlic salt
1 teaspoon dried whole leaf sage
1/4 cup packed brown sugar
2 tablespoons butter, softened
2 (14 ounces each) packages presliced apples
1 cup panko (Japanese-style) bread crumbs
Fresh snipped parsley (optional)
Preparation and freezing directions:
1. Place chops in a large zip-top plastic bag and set aside. In a small bowl, whisk together egg product, 1/2 teaspoon of the pumpkin pie spice, and all of the garlic salt and sage. Pour egg product mixture over chops in bag. Massage bag to coat chops. Squeeze out air and seal.
2. In a small bowl, stir together brown sugar, butter and the remaining 2 teaspoons pumpkin pie spice. Add apples and toss to coat. Place apple mixture in a large zip-top plastic bag. Place sealed bag of chops and sealed bag of apples in large freezer bag. Seal bag, label, and freeze.
Thawing and cooking instructions:

Thaw completely in refrigerator. Preheat oven to 375 degrees F. Place apples in 9x13-inch baking pan and set aside. Remove chops from egg mixture. Place bread crumbs in shallow dish and coat chops with bread crumbs. Place chops on top of apples. Bake for 40 to 45 minutes. Sprinkle with snipped parsley, if using, and serve.
Make your meal planning even easier with these recipes
Money saving meals
Flavorful 3-step meals
One week of delicious meals