Make-Ahead Meals
Looking for savory ways to save time in the kitchen while keeping you and your family well-fed? Sandra Lee, star of Semi-Homemade Cooking on the Food Network and author of Sandra Lee Semi-Homemade Money Saving Meals suggests meals that you can make-ahead and freeze for those days when you can't spend your afternoon preparing the family dinner. Here are some helpful tips and three mouthwatering make-ahead meals.
(page 3 of 5)
Tarragon Turkey and Rice
Serves 4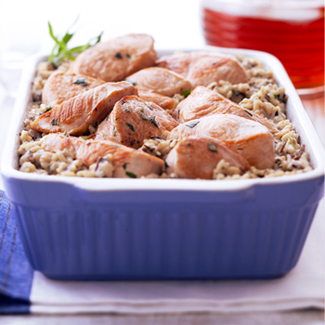 For versatility and taste, turkey tenderloins can't be beat. Cooking the companion rice in mushroom soup and chicken broth intensifies its flavor. Poultry freezes superbly, making it easy for you to pack in single-serving containers for dinner or packing a lunch to take to work.
Ingredients:

1 (10.75-ounce) can condensed cream of mushroom soup
1 cup reduced-sodium chicken broth
1 (5.9-ounce) box garlic and herb long grain and wild rice mix
1 tablespoon lemon juice
1 teaspoon crushed garlic
1 tablespoon dried tarragon
1-1/2 teaspoons garlic salt
1-1/4 pounds turkey breast tenderloin, cut into serving-size portions
Fresh tarragon sprig (optional)
Preparation and freezing directions:

1. Preheat oven to 350 degrees F. In a medium bowl, stir together mushroom soup, broth, rice mix, lemon juice and garlic. Transfer to 9x13-inch baking dish and set aside.
2. Combine tarragon and garlic salt. Sprinkle tarragon mixture over all sides of the turkey portions and place on top of the rice mixture. Cover and bake in the preheated oven for 45 minutes.
3. Serve hot or prepare to freeze. If freezing, cool on a wire rack for 20 to 25 minutes. Cover loosely with aluminum foil and cool completely in refrigerator. Once cool, remove foil, wrap tightly with plastic wrap, and overwrap with aluminum foil. Label and freeze.
Thawing and reheating instructions:

Thaw completely in refrigerator. Preheat oven to 350 degrees F. Remove plastic wrap and re-cover with foil. Let stand at room temperature for 30 minutes. Bake for 25 to 30 minutes or until heated through. Garnish with a tarragon sprig, if using.