Make-Ahead Meals
Looking for savory ways to save time in the kitchen while keeping you and your family well-fed? Sandra Lee, star of Semi-Homemade Cooking on the Food Network and author of Sandra Lee Semi-Homemade Money Saving Meals suggests meals that you can make-ahead and freeze for those days when you can't spend your afternoon preparing the family dinner. Here are some helpful tips and three mouthwatering make-ahead meals.
(page 2 of 5)
Pecan-Crusted Orange Curry Chicken
Serves 4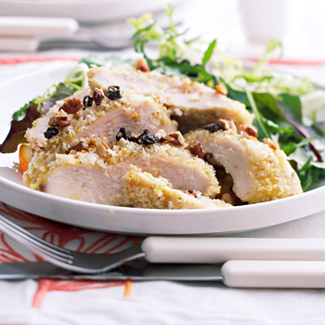 A pecan crust makes this pretty dish taste like company's coming, though it's quick enough to serve any night for a family treat. Separate the chicken and coating for freezing, then when you are ready to serve, all you have to do is thaw, assemble and bake.
Ingredients:

4 boneless, skinless chicken breasts, trimmed
1 teaspoon curry powder
1 tablespoon butter
2 tablespoons frozen orange juice concentrate
1/2 cup mayonnaise
1/2 teaspoon salt
1 cup panko (Japanese-style) bread crumbs
1/2 cup pecans, finely chopped
1/4 cup dried cherries, finely chopped
2 tablespoons canola oil
Preparation and freezing directions:
1. Rinse chicken with cold water and pat dry with paper towels. Place chicken in a large zip-top plastic bag and set aside. In a dry skillet, heat curry powder over medium heat until curry just becomes fragrant, then add butter.
2. When butter has melted, remove from heat and stir in orange juice concentrate. Transfer orange juice mixture to a small bowl. When cooled, stir in mayonnaise and salt. Pour curry mixture over chicken in plastic bag. Squeeze out air and seal.
3. In a small bowl, combine panko bread crumbs, pecans, dried cherries and oil and mix well. Transfer bread crumb mixture to a small zip-top plastic bag and squeeze out air and seal. Place sealed bag with chicken and sealed bag with bread crumbs in large freezer bag. Seal and freeze.
Thawing and cooking instructions:

Thaw chicken breasts completely in refrigerator. Preheat oven to 375 degrees F. Empty bread crumb mixture onto a plate. Press chicken breasts into bread crumbs to coat. Place on a baking sheet that has been lightly sprayed with cooking spray. Bake for about 20 minutes or until an instant-read thermometer inserted in center of chicken breast registers 170 degrees F. Serve hot.