Plan The Perfect Party
Who has time to make canapés and polish crystal stemware? Let's keep hosting as easy as possible.
Holiday time calls for drinks, celebrations...and more drinks. Woo your guests with just the right stocked bar for any occasion. Here, tips from party planners and drink specialists (at no extra charge).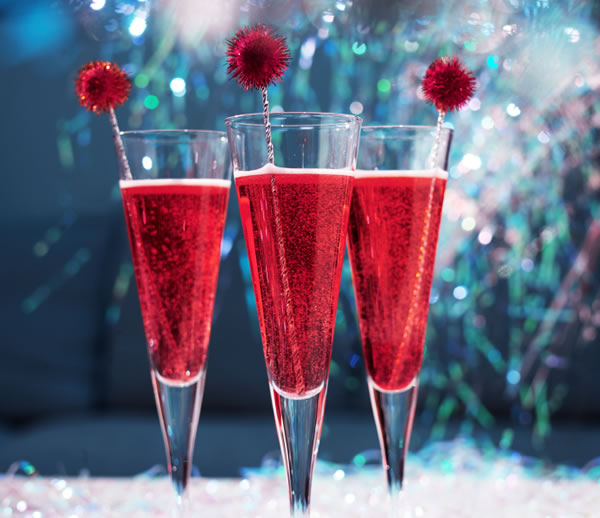 Unless you're P. Diddy, the only booze you need for a kick-ass party is vodka, rum, whiskey, wine, and beer. For mixers, make sure to have cranberry juice, club soda, Coke, tonic water, and lots of lemons. Fill pitchers with two premade concoctions like a rum punch or a signature cocktail. Since traditional stemware has gone the way of shoulder pads, serve in Italian-style tumblers. Inexpensive sets are available at places like Crate and Barrel (starting at $1.95 a glass) or Ikea (Svepa sets go for $5.99 a dozen). Oh! And don't forget tools — a corkscrew, muddler, shaker, strainer, and shot glass.
Now, how much to buy?
Rule of thumb:
Plan on two drinks per person for the first two hours, one drink per person for each extra hour, say entertaining gurus Karen Page and Dina Cheney. Assume 40% drink beer, 30% use hard liquor, and 30% sip wine.
25 People
Beer:
60 bottles
Wine and champagne:
9 bottles
Hard liquor:
3 bottles
Mixers:
12 liters
50 People
Beer:
120 bottles
Wine and champagne:
18 bottles
Hard liquor:
6 bottles
Mixers:
24 liters
100 People
Beer:
240 bottles
Wine and champagne:
36 bottles
Hard liquor:
11 bottles
Mixers:
48 liters