Meals That Save
Money And Time
If your food budget is feeling the strain of the down-turned economy, making cost-conscious meals is a top priority - a necessity, even. To help you in your quest for delicious dishes that are budget-friendly, Sandra Lee, star of Semi-Homemade Cooking on the Food Network and author of Sandra Lee Semi-Homemade Money Saving Meals, shares three of her delectable dinners that are made with a creative - and economical - combination of fresh ingredients and ready-made products from your local supermarket. Shopping lists are included.
(page 3 of 3)
Creamy Penne Pesto Bake
Serves 4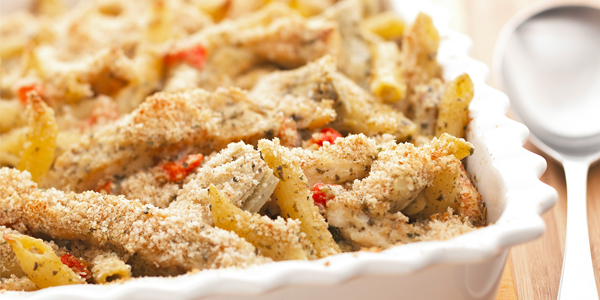 Ingredients:

Nonstick cooking spray
8 ounces penne pasta
1-1/2 cups Alfredo sauce
1 (5-ounce) jar pesto sauce
1 (13.75-ounce) can artichoke hearts, drained, rinsed
2 cups shredded Italian cheese blend
2 (6 ounces each) packets grilled chicken strips
1/2 cup roasted red peppers, chopped
1/4 cup Italian bread crumbs
1/4 cup grated Parmesan cheese
1-1/2 teaspoons extra virgin olive oil
Directions:

1. Preheat oven to 375 degrees F. Lightly spray a 2-1/2-quart casserole dish with cooking spray and set aside.
2. In a large saucepan of boiling salted water, cook pasta for 1 minute less than directed on package. Drain and set aside. For creamy pesto, in a medium bowl, stir together Alfredo sauce and pesto sauce and set aside.
3. In a large bowl, toss to combine artichoke hearts, Italian cheese blend, chicken and roasted red peppers. Add cooked pasta and creamy pesto. Using a rubber spatula, fold together until well mixed. Transfer to prepared casserole dish.
4. In a small bowl, combine breadcrumbs, Parmesan and oil and sprinkle over pasta. Bake for 30 to 45 minutes or until golden brown and bubbling.
Shopping List

Italian cheese blend
Grilled chicken strips
Related Articles