Meals That Save
Money And Time
If your food budget is feeling the strain of the down-turned economy, making cost-conscious meals is a top priority - a necessity, even. To help you in your quest for delicious dishes that are budget-friendly, Sandra Lee, star of Semi-Homemade Cooking on the Food Network and author of Sandra Lee Semi-Homemade Money Saving Meals, shares three of her delectable dinners that are made with a creative - and economical - combination of fresh ingredients and ready-made products from your local supermarket. Shopping lists are included.
(page 2 of 3)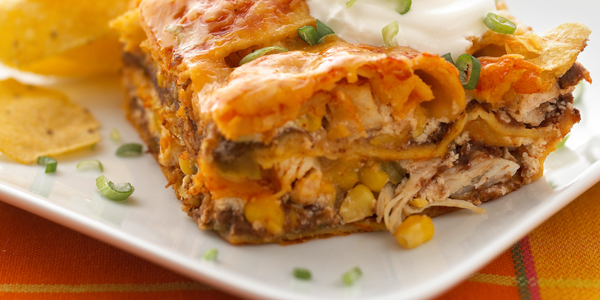 Enchilada Lasagna
Serves 8
Ingredients:

1 (16-ounce) can refried black beans
1 (4-ounce) can diced green chiles
1 (15-ounce) container ricotta
1 egg, lightly beaten
2 teaspoons Mexican seasoning
1/2 teaspoon salt
2 (10 ounces each) cans red enchilada sauce
18 corn tortillas
1 (11-ounce) can Mexi-corn, drained
2 (6 ounces each) packages grilled chicken strips, cut into bite-size pieces
3 cups shredded Mexican blend cheese
Sour cream
Sliced scallion (green onion)
Directions:

1. Preheat oven to 400 degrees F. In a medium-sized microwave-safe bowl, combine refried black beans and diced green chiles. Cover and microwave on high setting (100 percent power) for 1 minute. Set aside. In a small bowl, stir together ricotta, egg, Mexican seasoning and salt.
2. Spread 1/2 cup of the enchilada sauce evenly in a 9x13-inch baking pan. Overlap 6 corn tortillas to create a layer. Spread half of the black bean mixture evenly over tortillas. Top with half of the ricotta mixture, spreading evenly. Sprinkle with half of the Mexi-corn, one package of the chicken, and 1 cup of the shredded cheese. Spread 1/2 cup of the enchilada sauce over top.
3. Add another layer of tortillas and top with 1/4 cup of the enchilada sauce. Repeat with remaining black bean mixture, remaining ricotta mixture, remaining Mexi-corn, remaining chicken, another 1 cup of the shredded cheese, another 1/2 cup of the enchilada sauce, and the remaining tortillas. Spread remaining enchilada sauce over tortillas and sprinkle with remaining shredded cheese.
4. Cover with aluminum foil and bake for 40 to 45 minutes or until bubbly. Let rest for 5 minutes before serving. Serve with sour cream and sliced scallion.
Shopping List

Canned refried black beans
Canned diced green chiles
Ricotta cheese
Mexican seasoning
Red enchilada sauce
Corn tortillas
Grilled chicken strips
Mexican cheese blend