German Food Und Beer
Celebrated at the end of September each year in Germany, Oktoberfest attracts millions of people from around the world. If you can't make it to Munich this year, you can celebrate with your own Oktoberfest party at home, complete with traditional German food, beer, music and more.
(page 2 of 3)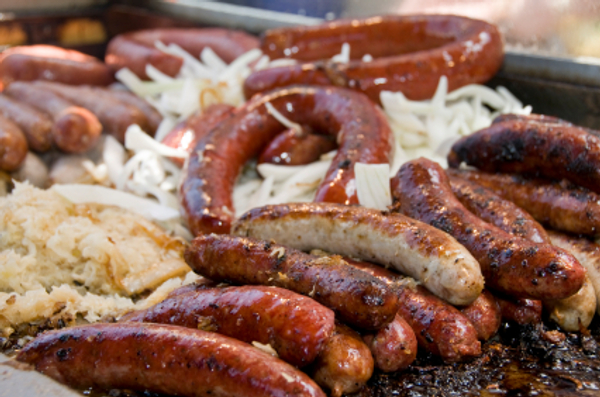 Grilled bratwurst in beer
Bratwurst is a sausage made from pork, beef or veal. Bratwurst can be found in your local market and can be fried, roasted or grilled. Here we will tell you how to grill bratwurst in beer.
Directions
Prepare charcoal or light your barbecue grill for cooking.
Once your grill is ready, pour on bottle of German beer into a saucepan with an ovenproof handle.
Place the sauce pan on one side of the grill, making sure it can heat evenly.
Pierce each sausage or bratwurst three to four times with a sharp knife.
Add the bratwurst to the pan of beer and simmer for 15 minutes, turning just once.
Move the bratwurst from the pan onto the grill itself.
Remove the beer pan from the grill.
Grill bratwurst 10 minutes or until cooked through.
Serve on a crust crusty roll with mustard.
Sweet and sour red cabbage
Ingredients
3 medium apples
3/4 cup water
1 small head red cabbage, shredded
1/4 cup brown sugar
1 cup white vinegar
1/2 tsp cinnamon
1/2 tsp allspice
2 Tbsp butter, divided
Directions
Peel, core and chop apples.
Pour water into a large saucepan and stir in all ingredients except 1 tablespoon of butter.
Bring to a rapid. Reduce heat and cover.
Simmer for 50-60 minutes, stirring periodically, until cabbage is tender.
Stir in remaining tablespoon of butter and serve hot.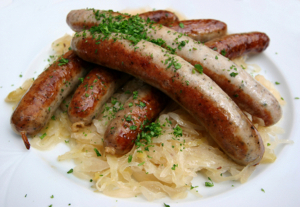 German sauerkraut
Ingredients
2 medium apples
1 (16-oz) can or jar of sauerkraut
1/2 cup chopped onions
1 cup apple juice
1 tsp nutmeg
1 tsp cinnamon
10-12 juniper berries
Directions
Peel, core and chop apples.
Mix all ingredients in a large pot.
Simmer for 35-45 minutes.
If liquid simmers away while cooking, add a little more juice.
On the next page, find more German recipes, including one for delicious Black Forest Cake!