Tequila Recipes & Party Tips
Instead of heading out to the club or a fancy restaurant, you can create a cool tequila tasting soiree at home. With these fabulous recipes and tips, you can throw an elegant party your guests won't soon forget.
(page 2 of 2)
Third course
For the center piece of your meal, try a heavier meat option such as a Garlic-Marinated Flank Steak with Lime. Serve with a side of Chipotle Pico de Gallo, a mixture of chopped chipotle chilies, tomatoes, onion and cilantro, and a glass of Herradura Añejo's spicy and nutty notes.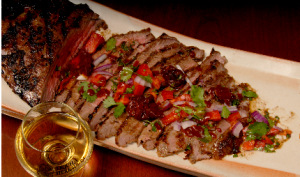 Casa Herradura Beef Arrachera
(Grilled garlic-marinated flank steak with lime)
Ingredients
Marinade
3 pounds flank steak 
3 tablespoons finely chopped garlic
3 tablespoons olive oil
1/2 cup Casa Herradura Reposada Tequila
1/4 cup fresh lime juice coarse
salt to taste
Use when grilling
1 tablespoon coarse salt
1/2 tablespoon ground cumin
1/2 tablespoon ground black pepper
Directions
Whisk together marinade ingredients above Marinate steaks, covered and chilled, at least 30 minutes and up to 1 day.
Prepare grill.
Season steaks generously with seasonings and grill on a rack set 5 to 6 inches over glowing coals 2 to 3 minutes on each side for medium-rare, or cook in a sauté pan set over medium high heat for the same amount of time. Transfer steaks to a cutting board and drizzle with lime juice. Let steaks stand, uncovered, 5 to 10 minutes and with a sharp knife cut diagonally across grain into thin slices.
Serve steak with sauce below.
Chipotle pico de gallo
Servings: Makes about 3 cups
Ingredients
1/4 cup fresh lime juice
2 teaspoons minced canned chipotle chilies in adobo sauce
4 garlic cloves, minced
2 cups chopped seed tomatoes
1 cup chopped onion
1/2 cup chopped fresh cilantro
Directions
Combine fresh lime juice, chipotle chilies and minced garlic in large bowl. Add chopped tomatoes, onion and fresh cilantro. Season to taste with salt. Let pico de gallo stand 1 hour at room temperature to allow flavors to develop.
Fourth course
After a satisfying meal that's sure to rival that of any high-end restaurant, try a rich chocolate soufflé or a creamy Key Lime Cheesecake. Round up the elegant flavors with slow sips of Herradura's Extra Añejo expression Selección Suprema that will remind you of a fine cognac.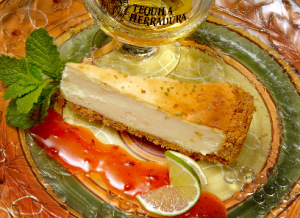 Casa Herradura key lime cheesecake
Ingredients
Lime custard
6 large egg yolks
3/4 cup sugar
6 tablespoons fresh Key lime juice or regular lime juice
1 teaspoon grated Key lime peel or regular lime peel 
Crust
1 3/4 cups graham cracker crumbs (about 12 whole graham crackers)
1/4 cup sugar
1/2 teaspoon salt
1/2 cup (1 stick) unsalted butter, melted
Filling
2 (8-ounce) packages cream cheese, room temperature
2/3 cup plus 3 tablespoons sugar
2 large eggs
1/2 cup Casa Herradura Anejo Tequila
3 tablespoons fresh Key lime juice or regular lime juice
1 tablespoon grated Key lime peel or regular lime peel
thin lime slices for garnish
Directions
For lime custard
Whisk all ingredients in heavy small saucepan over medium heat until custard thickens and boils for 30 seconds, about 8 minutes. Cool to room temperature, stirring occasionally (mixture will thicken).
For crust
Preheat oven to 350 degrees F. Wrap 3 layers of foil around outside of 8- to 8 1/2-inch-diameter springform pan with 3-inch-high sides. Butter pan. Stir first 3 ingredients to blend in medium bowl. Mix in butter until moistened. Press crumb mixture evenly onto bottom and 1 1/2 inches up sides of prepared pan. Bake just until set, about 5 minutes. Cool completely. Maintain oven temperature.
For filling
Place cream cheese, 2/3 cup sugar, eggs, lime juice, and lime peel in processor; blend well.
Spoon custard into crust; smooth top. Carefully spoon filling over. Set cheesecake in large baking pan. Add enough hot water to baking pan to come 1 inch up sides of cheesecake pan. Bake until almost set but not puffed and center moves slightly when pan is gently shaken, about 45 minutes.
Cool 10 minutes. Run knife around sides of pan to loosen. Cool cheesecake completely. Cover and refrigerate overnight. Unmold from pan and slice into 12 pieces. Garnish with lime slices and serve.
Party planning tips