Family Recipes Under $10
Are you looking for ways to cut food costs? With these easy recipes, you can feed a family of four for less than $10. These affordable family meals are delicious too! Enjoy salmon croquettes, chicken with tomatoes and okra, or pork and sweet potato stew.
(page 2 of 2)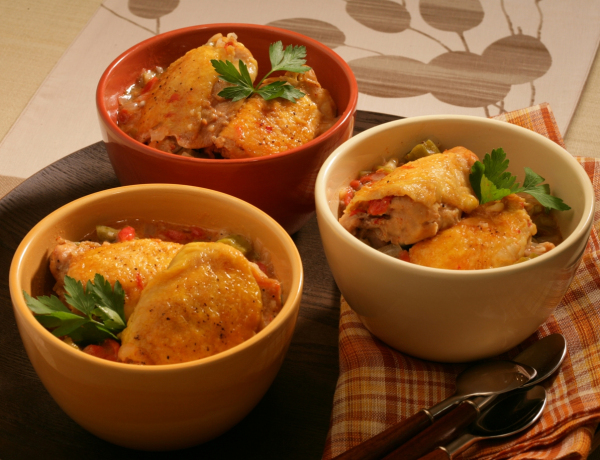 Chicken with tomatoes and okra
Serves 4 Chicken thighs are economical and full-flavored. But we often pass over them in the grocery store because many recipes call for chicken breasts. The frying oil, which is made from a blend of soybean and peanut oil, adds a robust, nutty flavor.  
Serve this dish with rice for a down-home meal that saves time in the kitchen. Total cook time is about 30 minutes.
Ingredients
1/3 cup LouAna Southern Frying Oil
8 bone-in chicken thighs
1 1/2 teaspoons salt
1/2 teaspoon freshly ground black pepper
1 1/2 cups fresh or frozen (1/2-inch-thick) sliced okra
1 (14.5-ounce) can whole peeled tomatoes, drained and crushed
1 tablespoon white vinegar
1 tablespoon flour
1/2 teaspoon sugar
1 cup reduced-sodium chicken broth
Directions
Heat oil in a large skillet over medium-high heat. Season chicken evenly with 1 teaspoon salt and pepper. Add chicken to pan; sauté 4 minutes on each side or until brown. Remove chicken from pan. Add okra to pan; cook two minutes. Stir in okra, broth, tomatoes and sugar; bring to a boil.  
Gently place chicken in tomato mixture. Reduce heat, and simmer 20 minutes or until chicken is done, stirring occasionally. Remove about 1/4 cup hot broth from pan; stir vinegar and flour into broth mixture. Return broth mixture to pan; bring to a boil. Cook 1 minute or until sauce is slightly thick.  
Pork & sweet potato stew
Serves 4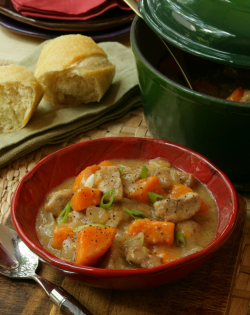 You can search grocery sale ads or buy larger cuts of pork tenderloin or pork loin which will reduce the price per pound. You can also freeze the leftover portions for later use.  
Ingredients
2/3 cup LouAna vegetable or canola oil, divided into two separate cups
1 (1-pound) pork tenderloin, trimmed and cut into 1/2-inch cubes
1 teaspoon salt, divided in half
1/2 teaspoon freshly ground black pepper
1/4 teaspoon ground cumin
1/8 teaspoon ground cinnamon
1/3 cup all-purpose flour
2 cups (1/2-inch) cubed fresh or canned sweet potato
1 1/2 cups chopped onion
2 garlic cloves, minced
3 cups reduced-sodium chicken broth
1/4 cups sliced green onions(optional)
Directions
Heat 1/3 cup oil in a Dutch oven (or another thick-walled iron cooking pot with a tight-fitting lid) over medium-high heat. Place pork in a large zip-top bag. Combine 1/2 teaspoon of the salt, plus pepper, cumin and cinnamon; sprinkle over pork. Add flour to pork mixture; seal bag. Shake to coat. Add pork mixture to pan; sauté 4 minutes, turning to brown on all sides. Remove pork from pan.  
Heat remaining oil over medium-high heat. Add remaining 1/2 teaspoon salt, potato and onion to pan; sauté 3 minutes. Add garlic; sauté 1 minute, stirring often.  
Return pork to pan. Stir in broth; bring to a boil. Reduce heat and simmer 25 minutes or until pork is done and vegetables are tender. Sprinkle 1 tablespoon green onions over each serving, if desired.These recipes were provided by LouAna. Check out more of their
$10 meals
.
Quick family meals