Healthy
3-Minute Meals
With back to school busyness bearing down on your schedule, eating healthy meals is a neverending challenge. You have little time for planning, even less time for shopping, yet you don't want to forsake your diet or health by skipping meals or frequently eating out. Microwave meals are convenient but many fall short of a healthy meal and some are far from filling. Until now. Read on for a delicious new line of microwave meals that pack convenience, health and satisfying flavor into an easily portable lunch or quick dinner.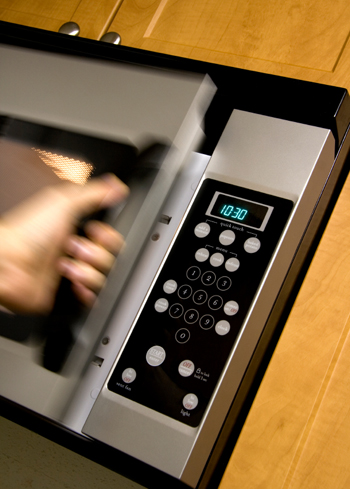 Healthy mealtimes made easy
Research continues to support the health benefits of a diet rich in fruits and vegetables. Unfortunately, studies also indicate that the majority of American diets contain less than half of the recommended daily amount of two and a half cups of vegetables.
Now, Del Monte has made it easier for Americans to get their recommended daily intake of veggies in its new line of Harvest Selections, wholesome microwaveable meals that are packed with a full cup of vegetables per serving – that's 40 percent of the
USDA MyPyramid
recommendation for vegetables based on a 2,000 calorie diet. And each Harvest Selection meal conveniently displays the graphic image of MyPyramid and indicates the percentage of various food groups the meal provides.
"Del Monte is committed to nourishing families and enriching lives every day and we know that busy consumers are continuing to look for delicious and convenient options when it comes to getting more vegetables in their diet," says Rodolfo Spielmann, vice president of marketing for Del Monte Foods.
Even better, each of the six Harvest Selections varieties are single-serving and shelf-stable, meaning you can keep them at your desk, in your locker and dorm room or always stocked in your pantry until you are ready to eat. No refrigerator or freezer required. It will only take you about three minutes to open one, microwave it and sit down to dine. That's fast!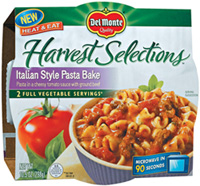 The six nutritious and flavorful Harvest Selections varieties include Beef Stew, Italian Style Pasta Bake, Chicken Cacciatore, Homestyle Chile with Beans, Spinach and Cheese Ravioli (vegetarian) and Santa-Fe Style Rice and Beans (vegetarian). These tasty meals will enhance the nutritional value of your lunch or dinnertime and still let you stay on task with your busy schedule.
For more information, visit
DelMonte.com
.
And here are a few more links with quick, healthy meals
More From SheKnows Explorer