Working Girl
Lunches
Tired of the "junior high" lunch of sandwich, apple or carrot sticks, and milk or soda? You're an adult, after all, and you should be dining on grown up lunches that are not only impressive to your brown bag lunch peers, but also satisfying and healthy for you! Here are some delicious lunch tips that will have you yearning for noon.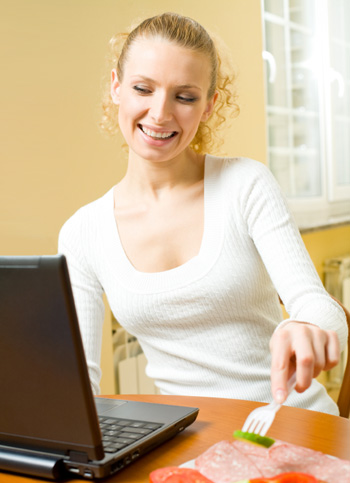 5 tips for fabulous work lunches
You can always go out and have lunch, but that gets costly and, worse, if you are even slightly health-conscious, it gets caloric. Instead of begrudgingly settling for a boring deli meat sandwich, get creative, be daring, and get well-fed. Here are some quick tips to make your lunch break a tasty 
and
nutritious endeavor.
1. Think outside the junior high brown bag
If that stand-by lunch you usually fix is causing your appetite to yawn, its time to try lunch recipes that are new and exciting. You may be "used to fixing sandwiches" but you can get used to fixing a tasty array of other dishes, too.
Ditch the sandwiches for a while and opt for noodle or rice bowls, wraps, flavorful salads, scintillating soups and even homemade personal-size pizzas. Side them up with ambrosial fruit salads or yogurt parfaits for dessert.
And if you typically drink milk, soda or a juice, change up your beverage and sip a wellness or sparkling water or another refreshing out of the ordinary drink (try one of these
four alternatives to diet soda
).
Try these delish lunch recipes:
2. Dine on different textures
To take the banality out of your brown bag lunch, include a variety of foods with different textures. Toss together a vegetable salad chockfull of crunchy vegetables, tender pieces of chicken or fish, juicy fruit, toasted nuts and crisply baked seasoned croutons. Wrap strips of mouthwateringly moist meats, crumbled cheese, shredded carrots or cabbage, fresh salsa and creamy avocado slices in a toasted gourmet tortilla. Simply excite your palate with elements of creamy, chunky, crunchy, juicy, chewy, tender and moist.

Here are a few dynamite dishes with a mouthwatering array of tantalizing textures:
3. Make it colorful
When assembling your lunch, aim for an eye-appealing array of colors.

Instead of a blah turkey sandwich with white cheese on white bread smeared with mayonnaise, add pizzazz with these two tasty alternatives:

Roast beef sandwich: Layer roast beef with Muenster cheese, slices of tomato and spinach leaves on whole grain seeded bread smeared with grainy mustard.

Smoked salmon and barley salad: Toss together mesclun, smoked salmon, cooked barley, toasted pecans, red grapes, black olives and crumbled feta cheese. 

And as a bonus, besides looking delish, adding color also means you are most likely adding fresh flavors and health.


4. Eat what you crave
Just because you've been conditioned to eat sandwiches or the usual can of soup for lunch, doesn't mean you can't trump the rut with tastebud tantalizing foods you actually crave.
Write down the five foods you really love, then make the time to include those in your lunch (and, if needed, take advantage of the office breakroom microwave).
Like pizza? Bake a miniature Boboli (or another prepared pizza crust) with your most coveted toppings. Love chile rellenos? Stuff a tortilla with slivers of roasted poblano and Mexican cheese. Salivate over red beans and rice? Make a batch for dinner and savor a serving for lunch the next day.
Eating foods you crave isn't even challenging – as long as you recondition yourself to think outside the usual sandwich lunch rut.
5. Plan ahead
And don't say you don't have time. If you have managed to toss a sandwich together and pack your brown bag with a fruit or vegetable and drink, you have the time to make your lunch more interesting.
Browse the
SheKnows.com Food and Recipe Channel
for a delectable array of recipes or do a specific Internet search for dishes you crave.
To save yourself time, make extra helpings at dinner and package them in individual-sized serving containers or, at the very least, pack your lunch the night before.
And to be prepared, keep a shopping list handy with the ingredients you need to jazz up your midday brown bag fare.
You work hard and you deserve to eat a satisfying lunch that will carry you through your workday afternoons - now you have the tips to do it!
Want more work-related tips for health and wellness? Give these articles a browse: