Raw Foodism 101
Once upon a time everyone jumped on the fad-diet bandwagon - remember diets like the Atkins and South Beach? Well, it seems now that fewer Americans are fad-dieting and more are simply opting for healthier ways to eat. Raw foodism, an alternative diet, has recently become a popular way to eat for health - and is touted by celebrities such as Alicia Silverstone, Lisa Bonet, Robin Williams, Jason Mraz, Angela Bassett, Woody Harrelson, Donna Karan and others. If you have only heard of it but haven't tried it, read on to learn why many people are incorporating more raw foods into their healthy lifestyles, and why some choose to live the full raw food life.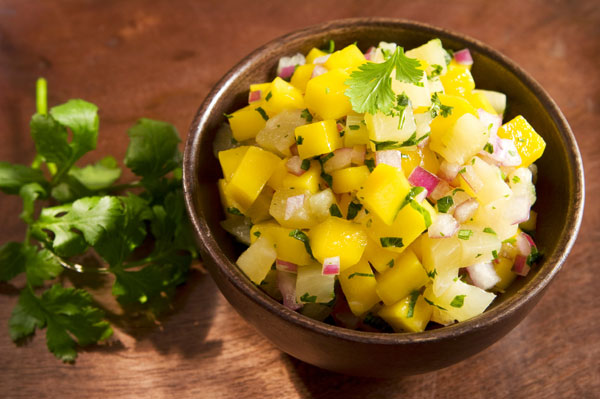 Raw foodism is a lifestyle
The raw food movement is more than just eating uncooked fresh foods. It is living a life that is free from processed foods and the commitment to living a life aimed at health, healing and energy.

The raw food lifestyle is a "paradigm shift," says Julie Brown, a natural colon hydrotherapist and practitioner of healing and health through natural law-wholistic nutrition and detoxification.

Raw foodism is based on the belief that humans are designed to eat certain foods. Raw foodists believe everything from milk, alcohol, breads and even the food pyramid need to be deprogrammed.

According to Brown, if done correctly, [raw-foodism] facilitates a level of healing, health, vitality, agelessness, disease prevention, and mental and spiritual clarity that most people don't believe or understand to be possible.

Other benefits of raw foodism include weight loss, radiant skin, increased energy and better health. However, Brown explains, "While those things are true, that is not what raw foodism is, that is just how it's being used, packaged, marketed, advertised and discussed in the mainstream world."

The truth is that raw-foodism is a term that implies a complete paradigm shift of the understanding of the human body, health, disease, medicine and more.

Brown compares the body to that of the eco-system, stating, "We eat foods that give off horrible poisons and toxins and are not biodegradable in our own systems." And like the eco-system, our bodies suffer the consequences. Eating fresh raw foods can help detoxify the body.
Raw foodism can work miracles for the mind
Raw foodism doesn't just work miracles for the physical sense of well being. It also allows emotional transformations to take place.

Brown believes that many mental health conditions, such as depression, attention deficit disorders and chronic anger are a result of the "poisons and waste in our bodies from a lifetime of wrong eating and living." The poisons and toxins not only impact the physical well-being, they also block the natural energy in the mind and body.

She says, "When we understand how directly connected the emotional and physical body are and how they really are one system, all of our mental, emotional and spiritual journeys are substantially shifted towards healing and health by removing these blockages from our beings."

In addition to nourishing the body with raw foods, Brown also recommends cleansings as part of the raw food lifestyle.
Raw foodism is not magic, but a healthy mind-body way of life
Your body accumulates toxins due to the foods you eat, chemicals you are exposed to through diet and proximity, and other unnatural materials in your environment.

"[Eating raw foods] allows us to awaken this matter within us - not because the foods themselves contain some magic ingredients - [but because] the passing and elimination of this matter from our bodies creates the health," states Brown. And according to Brown, it is only when the matter passes through the body that the body is actually in a state of healing.

She warns, "If you stir up and awaken this matter, the lifetime of poison within us, without committing to removing it, you can create more damage and problems for yourself than if you just left it alone. Your attempted de-toxification becomes a re-toxification."
Go slow
Because raw-foodism is not just another Hollywood diet and should be followed specific to one's body, it is advised that you seek professional guidance from a raw food specialist. In addition, Brown recommends that you approach it slowly.

Due to the wide range of misconceptions of the raw food diet and lifestyle, it is best to go slow and also commit to cleansings. Brown says, "Gradual and slower is truly a healthier way to go…physically and emotionally."

One way to start slow is to begin the day with water followed by vegetable juice, fresh from a juicer. Then slowly start replacing the processed cooked foods in your diet with fresh raw foods.

Here are two raw food recipes to give you a taste of the raw food movement!
Raw food recipes
Raw Chili
Serves 6

Ingredients:
2 cups purified water
4 cups tomatoes
1 tablespoon chili powder
1/2 tablespoon ground cumin
Sea Salt to taste
2 cups diced red and yellow bell peppers
1/2 cup diced onion
1/2 cup celery diced

Directions:
Place water, tomatoes and spices in a blender and puree. Add peppers, onion, celery and stir to combine. Serve at room temperature or chilled.
Mango and Avocado Salad
Serves 4

Ingredients:
2 ripe mangoes, peeled, pitted, chopped
1 large avocado, peeled, pitted, chopped
1 tablespoon lime juice
2 teaspoons olive oil
1 tablespoon minced fresh cilantro Leaves
1 tablespoon black sesame seeds
Directions:
In a bowl, mix all ingredients together. Serve immediately.
Additional resources
Be sure to do your research before embarking on a full raw food diet. Visit RawFoodLife.com for the science behind living a raw food lifestyle and Living-Foods.com, a community dedicated to educating the world about the power of living and raw foods.
For more information on diets and dieting, visit the SheKnows.com Diet and Fitness Channel.
And be sure to visit the SheKnows.com Food and Recipes Channel for a delicious selection of recipes - some raw, some not.