Fresh And Spicy Avocado Soup
Avocado isn't just for guacamole. If you like avocado, you will love this soup which uses a purée of avocado topped with salsa. The salsa is essential to the recipe; it makes the flavor of the avocados really shine.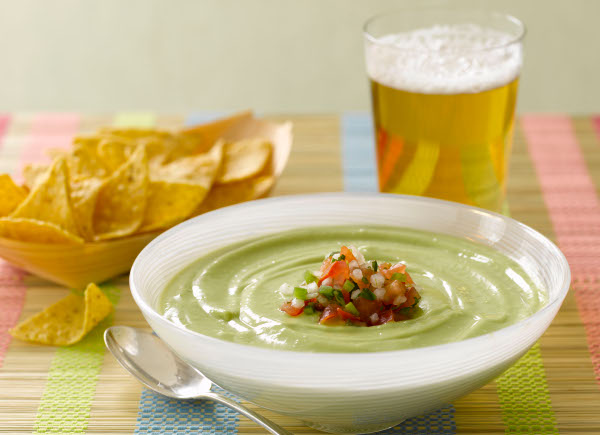 Salsa
Ingredients
2 cups diced tomatoes (6 to 8 plum tomatoes, seeds and membranes removed and discarded, cut into 1/2-inch pieces)
1 cup finely chopped onion
1 1/2 tablespoons minced jalapeño pepper (about one 3-inch pepper, with seeds and membranes discarded)
1 1/2 tablespoons fresh lime juice
2 teaspoons grated lime zest (from 2 to 3 limes)
Kosher salt
1/4 cup chopped cilantro
Soup
Ingredients
2 tablespoons olive oil
1 cup chopped onion
1 tablespoon minced garlic
2 cups chicken stock
6 ripe medium avocados, peeled, pitted, and diced (reserve pits)
5 tablespoons fresh lime juice, plus more if needed
Kosher salt
1/2 teaspoon Tabasco sauce, plus extra for the garnish
Directions
To make salsa:
Combine tomatoes, onion, minced jalapeño, lime juice and zest, and 1/2 teaspoon salt in a medium nonreactive bowl. Toss to mix. (Salsa can be prepared 6 hours ahead. Cover and refrigerate.)
To make soup:
Heat oil in a large, heavy nonreactive pot set over medium heat. Add onion and cook, stirring, until softened and translucent, for 3 to 4 minutes. Add garlic and cook, stirring, for 1 minute more. Add stock, 2 cups water, avocados, lime juice, 1 teaspoon salt, and 1/2 teaspoon Tabasco; bring mixture to a simmer and cook for 5 minutes. Remove from heat.
Purée the soup in batches in a
food processor
, blender, or food mill, and return soup to the pot. (Or use an immersion blender to purée the soup in the pot.) Don't worry if the soup is quite thick at this point. Add reserved avocado pits to soup, then cool, cover, and refrigerate for 3 hours or overnight. After soup has chilled, you can thin it with cold water, using up to 1 cup (or more if needed), if soup is too thick. Taste soup and season with more salt and additional lime juice, as needed. (Chilled soups often need extra seasoning to intensify their flavor.)
When ready to serve, remove and discard pits from soup. Drain the excess liquid from the salsa and stir in cilantro; season salsa with additional salt, if desired. To serve, ladle chilled soup into 6 bowls. Garnish center of each serving with some salsa and a dash of Tabasco.
Serves 6
Cooking Tips:
The avocado pits come in handy in this recipe. When they are added to the puréed soup, they prevent it from turning a drab green.
Prep time:
20 minutes
Start to finish:
35 to 40 minutes, plus 3 hours for the soup to chill
Make ahead: Yes
Bread basket choice: Tortilla chips
Recipe and image from
Sunday Soup
by Betty Rosbottom (
Chronicle Books
, 2008) Soup aficionado Betty Rosbottom has come up with 60 easy-to-follow recipes for flavorful soups, stews, and chowders for every Sunday of the year (and a few extras).
Avocado recipes